Go STEM Inspires the Scientist in Middle School Girls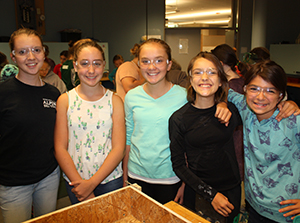 During the last week in July, 25 middle school girls took their curiosity and excitement to Keene State's Technology, Design, and Safety Center to immerse themselves in the Go STEM program. As part of the College's Kids on Campus offerings, Go STEM was designed to encourage more young women to explore the STEM (science, technology, engineering, and math) disciplines by engaging them in a technology-based project. Generous donations from local companies made sure that interested girls whose families couldn't afford the tuition could also participate.
"I have no doubt that this week changed girls' lives," reported Susan Silk '75, M'00, a KSC alum and retired Keene High career counselor who managed the program. "I'm very proud of the work we did. Those girls came out of the program different than when they went in."
At the end of the very full week, the participants had created a solar-powered water fountain, which required them to learn how to come up with a design, build a solar panel, measure and create molds, pour concrete, use the appropriate tools, and put it all together so that it worked perfectly. Probably the most important take away was the confidence each girl gained from realizing that they could take on a complicated and daunting project and see it through to a successful end.
"I can say that the Go STEM project was one of the most ambitious and rewarding things I've done in education," explained Julia Imbarrato, an adjunct in the Keene State Biology Department and environmental science teacher at Keene High. "As I generally teach high school- and college-level students, it was a breath of fresh air to have middle-school-age kids who were anxious to do work and very excited."
The week challenged the girls in many ways. "Making our project took a lot of work and we had to experiment a lot to get everything to fit together," said 11-year-old Charlotte Alexander. "We all got a lot of knowledge out of it, and we all learned a lot, and we had a lot of fun."
Another important aspect of the program came from building a practical foundation to some of the science the kids were learning in school. "We tried to make all this applied science and engineering real," explained Dr. Lisa Hix, associate professor of Keene State's Sustainable Product Design and Innovation program. "Some of the girls came with an interest in math, for example, but they don't really see where it applies to real-world problems. So we heard from a mathematician who designs circuit-boards, which showed the girls how math applies to creating something useful. We've given them something concrete, so they realize that what they're learning is practical and should prove useful later in life."
"My daughter had a wonderful experience," said Penny Lussier. "As a parent, it was great picking her up every afternoon when she would talk all about her day, instead of putting on her headphones and listening to music."
If you'd like to know more, check out the Keene Sentinel's story, "Girls STEM Inequity at Camp".
Related Stories