Biology Undergrads Continue Research throughout Summer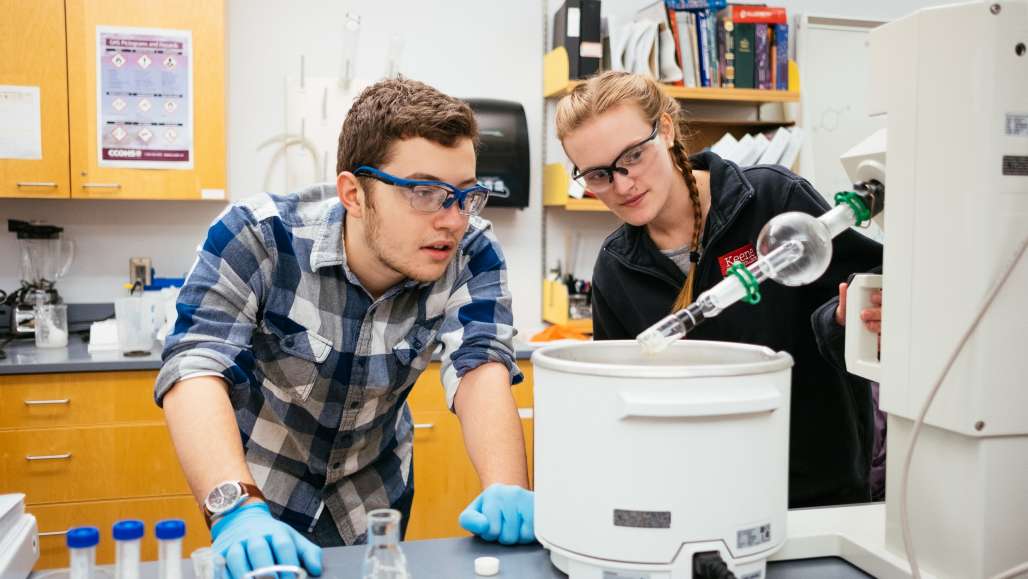 Professor of Chemistry Dr. Paul Baures is working with several undergraduate researchers on two separate projects this summer as part of a number of studies being conducted in the Chemistry Department.
Through the Building Excellence in Science and Technology (BEST) program, summer research students are receiving on-campus housing support in order to be closer to their labs and receive a more immersive research experience. BEST also is providing salary support for selected students beyond what funds are available through external grants.
Riley Mason '19, Ryan Marquis '19, Ariel Hansen '20, and Alayna Massie '20 are four undergraduate researchers working with Dr. Baures this summer. Mason is working on a project to develop an inhibitor of the enzyme, fatty acid synthase, which is a target for treating breast cancer. She is involved in the synthesis of compounds and purification early on the summer, but will eventually lead to more biologically-focused research.
Marquis and Hansen are working on a gas hydrate project which is focused on creating a coating for the inside of gas pipelines to prevent gas hydrates from forming, as the hydrates pose safety and environmental hazards in the gas industry.
For Marquis, the chance to conduct research during the summer is a good way to put into practice the skills learned in the classroom, while not overloading his schedule during the school year. He is both a chemistry and secondary education major.
"As a future educator, the experience and newfound confidence in the laboratory is so beneficial," said Marquis. "Often, I've thought to myself how it'll be hard to run my own high school lab someday but this summer I've felt much more comfortable in the lab setting, which I hope will someday transfer to a better lab experience for my students."
Mason, who was also a chemistry and education major, switched her education major to biology and now plans to follow her time at Keene State in the pursuit of an advanced chemistry degree or pharmacy school.
"Without having done research, I don't think I would have changed my career path, and I am so glad that I did. Also, I know that being able to put four years of undergraduate research and a few conferences on my resume will be quite an asset for me," she said.
Ariel Hansen says that she doesn't quite know what she'd like to do with her chemistry degree yet, but as a sophomore doing work on Dr. Baures's gas hydrate project, she'll have an excellent amount of research experience when the time comes to decide.
The gas hydrate project is currently investigating the use of a commercial polymer to create an insoluble coating that could prevent the formation of gas hydrates at low temperatures.
"Gas hydrates form under a variety of conditions in pipelines and have to be removed which is expensive," said Hansen.
"Our coatings are intended to mimic antifreeze proteins found in animals that hibernate during the winter and keep them safe from the cold," said Marquis. "In addition to the prevention of gas hydrates, the coatings we create could be used on power lines to prevent the power outages that are a result of ice storms. In the Northeast, we see a lot of power outages in the winter, so it's cool to think that one day our work could potentially combat them."
The implications of this research have a chance to be extremely useful in several applications and Dr. Baures makes sure that his undergraduate researchers have the support needed to execute their charges well.
"A lot of time is spent working directly with research faculty during the summer," said Riley. "Dr. Baures's door is always open and he is always more than happy to answer any questions, sit and talk about long term project goals, or come into the lab and help us with new lab techniques. Student researchers do spend a lot of time working independently, but Dr. Baures is always there when we need him."
Related Stories