Keene State College Singers Reconnect with Partner City Einbeck, Germany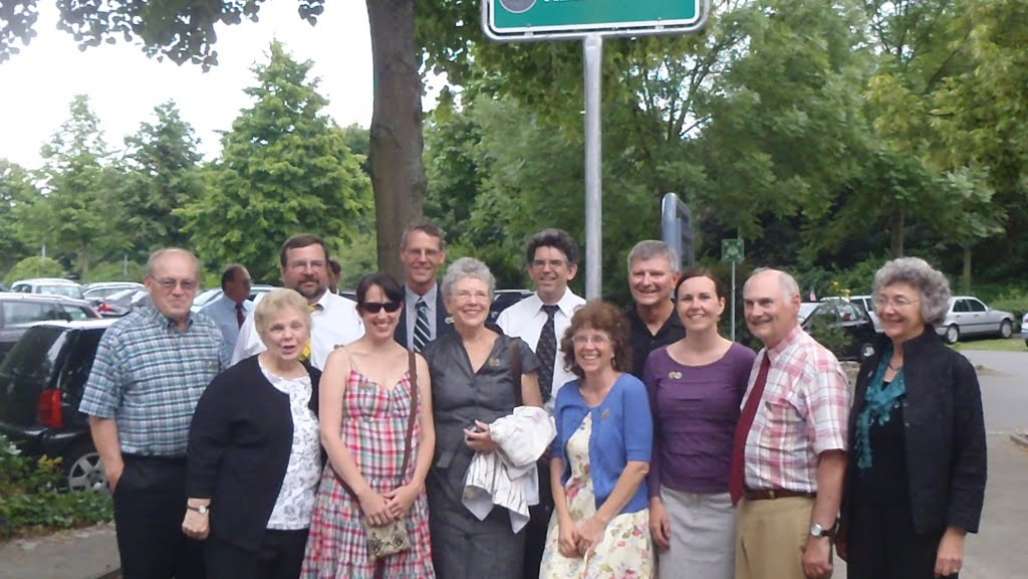 Continuing the cultural exchange that was developed a few years ago, the Keene State College Chamber Singers traveled to the City of Keene's partner city of Einbeck, Germany, in May to participate in an eight-day collaboration with community musicians. The Keene delegation included 13 music majors, one architecture student, and three KSC faculty members (Dr. Sandra Howard, Music; Dr. Nicholas Germana, History; Dr. Paul Vincent, Holocaust and Genocide Studies).
Annett Steinberg, conductor of Einbeck's community choir, VOICES, and host Petra Reemts greeted the group at the Hannover Airport. After a scenic train ride to Salzderhelden, where the group met its hosts, they then traveled to Einbeck's historic Synagogue for a welcome reception by Albert Thormann, head of Einbeck's Partner City Committee, and other official delegates. The evening involved a performance of Yiddish songs by Valeriya Shishkova & die Vanderer.
This visit continued the musical partnership formed in Einbeck in July 2012 when the Chamber Singers of Keene traveled there to collaborate with VOICES, a community-based choir. In October 2013, members of VOICES came to Keene to present a combined concert at KSC's Redfern Arts Center with the Chamber Singers of Keene, KSC choirs, and the Brass Ensemble.
During this latest visit in May, the KSC Chamber Singers performed during a Sunday morning church service at St. Jacobi Church in Salzderhelden followed by a barbeque luncheon at the nearby castle ruins. The KSC Chamber Singers also presented a collaborative concert at Einbeck's Munsterkirche St. Alexandri, joining with VOICES (directed by Annett Steinberg), Kantorei, and the Chamber Orchestra (directed by Ulrike Hastedt) to form a group of over 120 musicians in a culminating performance. Einbeck's mayor, Sabine Michalek, also joined the massive ensemble as a violinist.
The group's memorable tour included several opportunities for cultural exchange, such as tours of the M1 Musikschule (a community music school for rock music), the Mendelssohn Musikschule (a community music school for Classical music), and Einbeck's public high school. During the school visits, KSC's music students offered private lessons, participated in a chamber orchestra rehearsal, and lead songs with German students. The singers traveled to Hannover for a tour and rehearsal at the Hochschule für Musik, Theater, und Medien.
At the farewell party, Dr. Vincent led the attendees in singing Vera Lynn's "We'll Meet Again."
"The visit was a positive contribution to the long-standing partnership between the two cities," Dr. Howard explained. "Discussions are underway in both cities for an Einbeck delegation of community musicians in the coming years to visit Keene."
The week in Einbeck was graciously hosted by the Partner City Committee and local residents and businesses. This trip was funded in part by KSC's Center for Creative Inquiry grant, KSC student chapter of the American Choral Directors Association, Faculty Enrichment grant, and in-kind donations by members of the Keene community.
—submitted by Sandra Howard
Related Stories