The 2017-18 Season at the Redfern Arts Center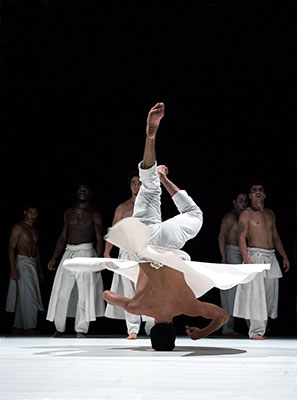 The Redfern Arts Center announces a sensational 2017-18 season of dynamic global and New England performances that includes a 1980s dance party, the North American premiere of a new Irish drama, magical and musical family shows, an all-female a cappella music ensemble, two spectacular dance troupes from North Africa and New York City, and two community-based projects: a theatre presentation about addiction and a unique map-making project of Keene.
The Redfern's new season runs from September 2017 to April 2018, and brings a variety of events that are entertaining, thought-provoking, funny, and suitable for all ages. Highlights include: New Hampshire-based Neoteric Dance Collaborative's Let Dance! 80s Edition which invites everyone to get up and dance, East African singer and songwriter Somi makes her Keene debut with jazz and R&B hits, Alloy Orchestra returns to play an original soundtrack to the swash buckling silent film The Black Pirate, and two Saturday morning family shows – the magic of Keene illusionist Jason Purdy and the eco-music of Johnny Fireseed and the Junkyard Dogs.
"We are proud to host exceptional international companies as well as share with our audiences the incredible artistry that is created here in New England," said Redfern Director Shannon Mayers. "Our mission is to offer a diverse range of performances and perspectives as well as provide the opportunity for our audiences to interact with these artists. And, at every show you can enjoy free food and refreshments in the company of your friends and family."
Tickets for the new season go on sale Monday, August 7 to members only, and to the general public a week later on Monday, August 14. Memberships can be purchased by phone 603-358-2168 and in person when the Redfern Box Office is open, Monday to Friday, from 12 to 6 p.m. After August 14, tickets can also be purchased online.
Related Stories