Clinton Mungeta's Story is One of Journey, Education, and Self-Expression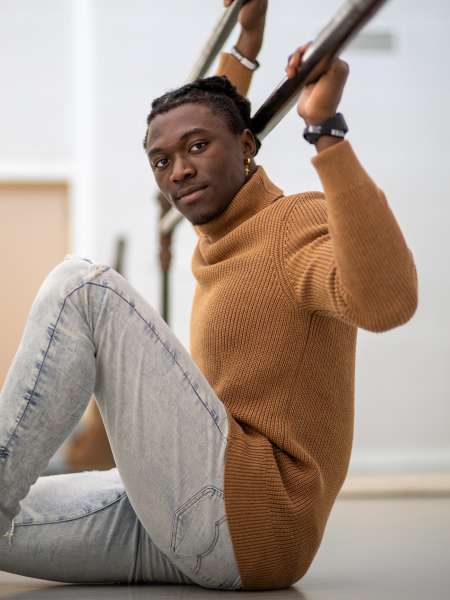 "There is a period near the beginning of every man's life when he has little to cling to except his unmanageable dream, little to support him except good health, and nowhere to go but all over the place."
— E. B. White
---
Clinton Mungeta's story, evolving as it might be, is a fascinating tapestry — colorful threads that reflect a life of journey, challenge, individuality, and unequivocal accomplishment.
His is a story of perseverance. The youngest of seven children in a family that immigrated to the United States from the Democratic Republic of the Congo (DRC) as refugees, Clinton graduated in December 2021 with dual degrees from Keene State College, nearly 7,000 miles from his homeland, a mostly landlocked country in central Africa beset by decades of war and violence. In May, Clinton '22 will walk across a bright, adorned stage, and receive his diploma. The juxtaposition is impossible to ignore.
His is a story of hope and resolve. He arrived in the U.S. as a young teen, suddenly relocated to an alien environment. Feeling many times that his back was to the wall with no way out, Clinton — eyes ahead — summoned the courage to press on. He discovered inspiration and staying power in the pursuit of a liberal-arts college education; a desire to make his mother, Sabine, proud; and a quest — his quest — for a better future.
His is a story of example and unbowed spirit, ultimately. Growing up in Uvira, a main city of South Kivu along the eastern flank of the DRC where school was fee-based and inaccessible to many, Clinton collected small scraps, often rocks desirable for building walkways and patios to sell to people of more means to help to support his large family.
That hard-scrabble road that shaped his early life may feel growingly distant, but it remains, he said, a big part of the person he is, and serves as real-life context for his journey so far and destinations still imagined.
The academic and Owl soccer standout, not to mention dance prodigy with an infectious personality and draw-you-in movie-screen smile, is also a father. He and his girlfriend, Jessica Houle '22, are parents to a precocious 2-year-old son, Cedric.
"I remember paying money to access a computer and Googling New Hampshire," Clinton recalled when he learned that he, his mother, and his siblings were headed to live in Concord, N.H., in 2012. He was 13 then. "I remember a lot of photos of trees; I had a lot of doubts. "But it worked out. My mom was big on education, and she means everything to me. That's why I worked hard in school every day. I know she didn't bring us here for just any reason. It was always about us; she wanted us to succeed in life. I look at it today and think, this is for me and my mom; I graduated from college."
In December, the 22-year-old fulfilled degree requirements in elementary education and French. Beginning in the fall, he plans to begin his pursuit of a master's degree in Safety and Occupational Health Applied Sciences, a well-known and highly regarded major at Keene State, to expand his career options.
He found a home and a community at Keene State, one of 29 public liberal arts colleges and universities in the U.S., set at the foot of the city's downtown, which is rimmed with locally owned shops, restaurants and cafes, and a centerpiece performing arts theatre.
Clinton is the first person in his family to receive a bachelor's degree, in this case from a college that typically welcomes anywhere from 40 to 50 percent first-generation students as part of its first-year class, Peggy Richmond, director of admissions, said.
A brother, Freddy, is taking classes at a community college in Iowa. Clinton's three sisters — Noella, Denise, Mireille — all work at Concord Hospital. Two have families. A brother, Sebastien, the second youngest, lives with his mother in Concord. The oldest sibling, Joel, chose not to leave the DRC, Clinton said.
The family's patriarch, Christien, died earlier.
Community, shared experiences
Other refugee and international student-athletes, including a handful from Clinton's homeland, were there to greet Clinton when he arrived at Keene State. Jacob Chiza '19 was one. Chiza relocated from the DRC to Manchester, N.H., and played high school soccer at Central before enrolling at Keene State.
"I met (Clinton) through soccer, and we had different groups of friends, but those groups were together," Jacob, who works as a safety manager in construction, said. "When I think of Bongo, I think of a hard worker. When he puts his mind to something, he goes after it; he never gives up. He's the type of person who is going to keep trying until he gets it right. It was that way with dance."
Manchester is a designated area of national refugee resettlement. Lewiston, Maine, Cedar Rapids, Iowa, and Tallahassee, Florida, are among others. Nearly 200 evacuees from Afghanistan, where U.S. troops mired for two decades in civil war completed a full withdrawal in August of 2021, are finding new hope and residence along southern portions of New Hampshire, the Concord Monitor reported recently.
Of Lewiston's 36,000 residents, several thousand are now African refugees and asylum-seekers.
Those who flee, on their own or with assistance from non-governmental agencies, are often cornered in some of the world's most dangerous places, including Clinton's native Congo.
Clinton said the Institute of Operations Management was instrumental in helping his family in its transition from the DRC to Concord. He does not take the good that he and his family have found for granted.
It drives his desire to learn and to share, he said.
Embracing the rhythm of learning
His college soccer coach, Rick Scott, describes the young man most know better as "Bongo," as a person defined by his realness. "So sincere," the coach said of the student-athlete he recruited from Concord High School. "I see that quality in him all the time.
"He's comfortable in every situation; he's not afraid to challenge himself. And he knows how to survive … he knows what it takes to survive."
Cynthia McLaughlin — an associate professor and the coordinator of dance at Keene State — said charisma begins to define Clinton, but it doesn't cover it. "Brilliance," she said, "is a better word, in the way that he lights up space and a topic of inquiry."
Added McLaughlin: "He was someone who always wanted to know more. Not just about the shape your body was in, or a tempo or a rhythm. There are so many ways to question material. I always looked forward to his interpretation and his questions."
John Sturtz, associate professor, had Clinton for three education classes. He said Clinton's ability and want to assimilate stood out immediately, and his humility and openheartedness drew other students in class naturally to him and to his story.
"The fact that he was able to bring warmth of character, humor, his intelligence for everything and his sheer determination, that made seeing him come to class every day great," Sturtz explained. "Having his perspective in class I think helped all the students out and helped me out in terms of perspective and relevancy of the subject matter. It was not a theoretical academic assessment of information … it was real. That just doesn't happen that often."
Jessica, a Holocaust & genocide studies major, and Clinton met in an elementary education class. Jessica was a freshman, Clinton a sophomore volunteering as a peer mentor. They had mutual Keene State friends, too, Jessica said.
Jessica is quick to describe Clinton as "impactful." She explained: "Bongo loves to share what he knows, his culture, and everyone learns something from him."
He's an open book, she added, noting that Clinton would prefer that others ask questions of him than assume knowledge of the Congolese culture or other aspects of his heritage. The "neat" part of that culture, Jessica said, "is that when one person succeeds, everybody succeeds; it carries over. It's an awesome, family-oriented way of life."
Transition not without challenge
Clinton speaks four languages: Swahili, English, French, and Lingala. French is the official language in Congo, and while taught, English is spoken there infrequently, so it was the fundamental barrier for Clinton as a refugee arriving on U.S. soil and integrating into a new, formal school system, he said.
"In the beginning, I hated every minute of it," he said. "I got here in the 8th grade; I felt completely lost and wanted to go home." Turning the corner, he said, meant hanging out with people who spoke English, being willing to listen and to learn, and getting out of his comfort zone. "My choice eventually," he said, "was to immerse myself and learned as much as I could."
Fortunately, he adds, "learning is a marathon and not a sprint," so time was on his side.
And about that nickname? Its origin, Clinton said, is underwhelming, really. "In 8th grade," he said, "the other kids said Clinton was too plain. 'We gotta figure something out,' they said. Bongo rhymed with Congo … there you go."
Clinton would not be where he is today, he admitted, without soccer and his adopted friendships with teammates and his relationship with coaches who were genuinely interested in his personal growth.
"He's a great teammate, a great friend and a great student," Scott said. "To see how he has balanced everything since Cedric came into his life, and stayed committed and driven, it has been incredible to watch."
Scott called Clinton a natural with children.
"When we hold youth clinics, and there are a hundred or more kids, it's only a day or two into camp that Clinton is the Pied Piper. They flock to him, and you can't get them away."
On so many levels, most agree, Clinton's journey is inspirational, if not a reminder of all things that are possible.
He has much to be thankful for, he feels, and he wants to give back.
"I come from a life in another place," he said. "I want to take Cedric there, so he can know where I came from. If I can make it possible for other children to have opportunities that I didn't when I was that age, I want to do that too (as a teacher)."
It's no coincidence that his son today attends the same daycare that Clinton served at as a volunteer when he was a Keene State freshman. Rather, it reflects who he is and where he is bound, Scott said.
Clinton's heritage, and the perceptions it might trigger, force you as a teacher to question your own assumptions, McLaughlin and Sturtz agreed.
"He'll always be a special, memorable student," Sturtz said of Clinton, "not so much for what I taught him, but what he's taught me, and shown me, which is that I need to keep my eyes open and be aware of all individuals in our community.
"His determination, his resiliency, his humanity … just recognizing he had experienced difficulties, that's a testament to his strength of character," Sturtz added. "His story unfortunately is not unique. The question should be: How can we learn from someone like Bongo? How many talented individuals are out there, possibly from backgrounds like his, that can contribute as much as he has?"
Front-row dancer
"He took a technique class with me," McLaughlin said. "He was that student that always got in front, no matter what. Even when he didn't know (the technique), no matter how unsure he was. 'I'm going to go for it; I'm not going to hold back. If I stumble, I'll smile and laugh and move on.' That was his attitude.
"That sense of identity … not being afraid to bring his own story in … it's a real mixture of him being just any other student who grapples with the same sort of things all students grapple with yet having this personal history that's very different than the others he's around."
Patricia Wilson, an adjunct professor at the college, recalled immediately being in awe of Clinton's dance talents and his "ebullient spirit that could fill a room."
That, and his laser-like focus, she said, prompted her to involve Clinton in an annual Dunham Technique Intensive with other dancers of color. They fashioned a plan for Clinton to travel to Indiana in the summer of 2019, along with another local dancer, Diane Duffy, for that experience.
Dunham, she said, is an African diasporic technique.
"Quickly," Wilson said, "Bongo made friends, became part of the family, and danced his way into everyone's heart."
Dance is a big part of a rich and ethnically diverse Congolese culture, Clinton said. "There was the Malewa (dance), but most of dance was free form … no instruction," he said. "You were just feeling the beat and moving to the beat and the rhythm."
Clinton was not the standout player on the soccer team. He did start 10 games his senior season and he was a called-on performer that Scott could use up top as a striker or outside on the wing. His name more than once graced the Little East Conference Academic Honor Roll.
"He gave you everything he had," the veteran coach said. "Probably the hardest working player on the team who always led by example at practice." That push to improve and excel, that poetic soul that McLaughlin said his stage dance revealed, and that approachable and friendly nature are a few of the qualities — threads in that work-in-progress tapestry — that define Clinton and account for the wings he's earned.
"Yes," Scott said, "he's an incredibly nice person, respectful of everybody. Talented. And he carries himself very professionally. His mother, I think, is a big motivational piece of Bongo's amazing success. He really wanted to please her and make her proud of him. And he did."
Clinton Mungeta '22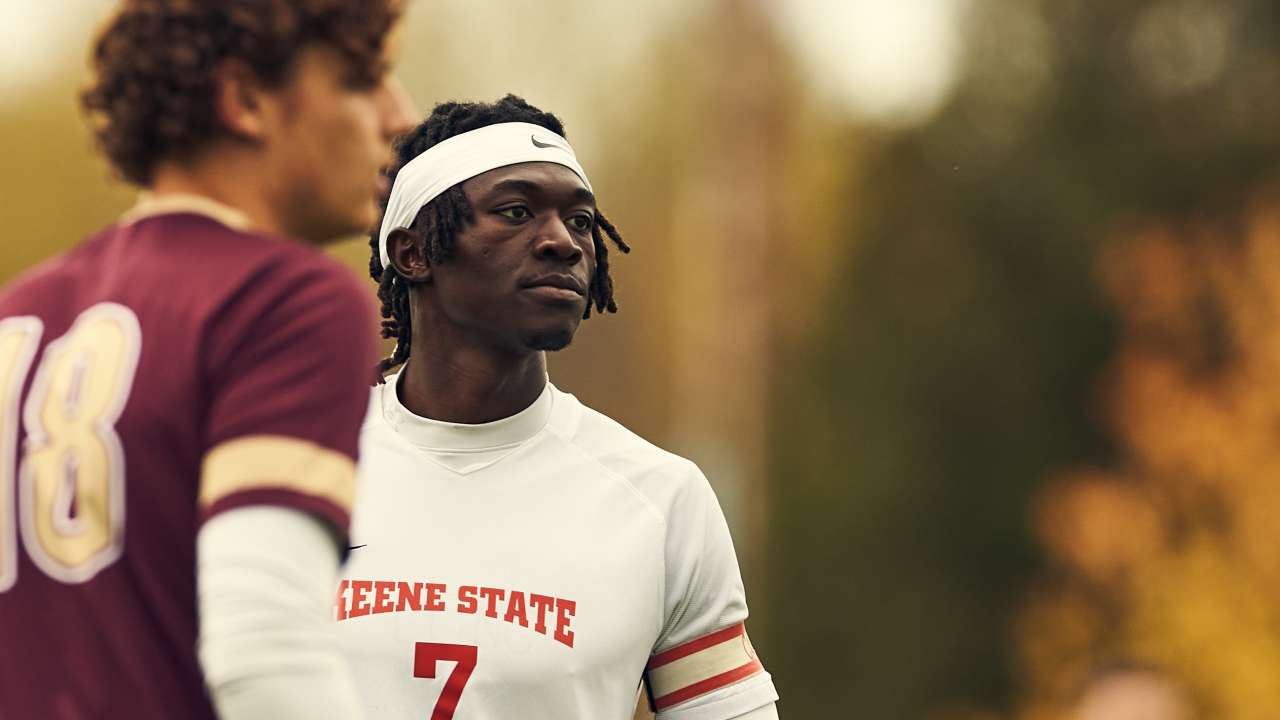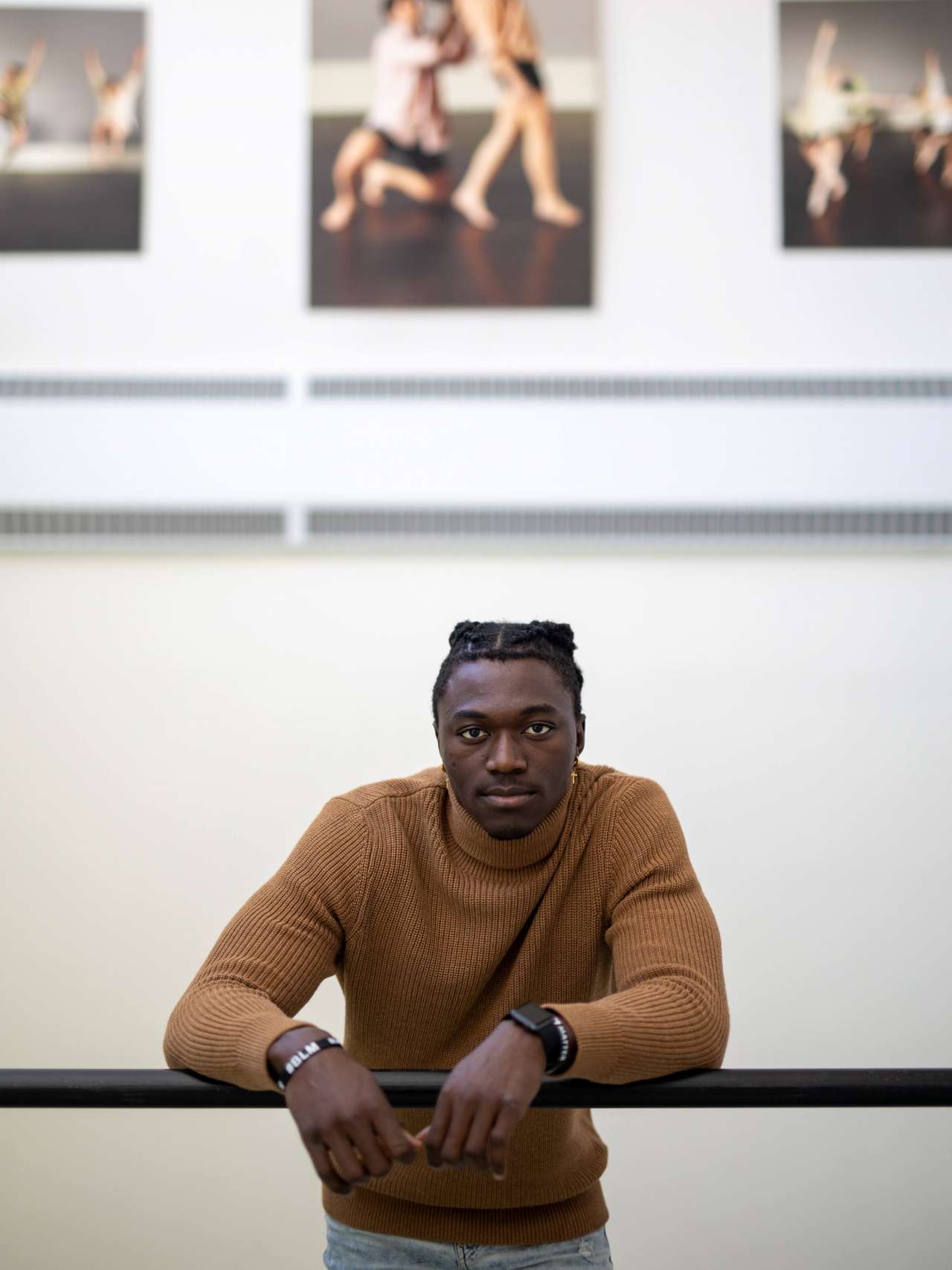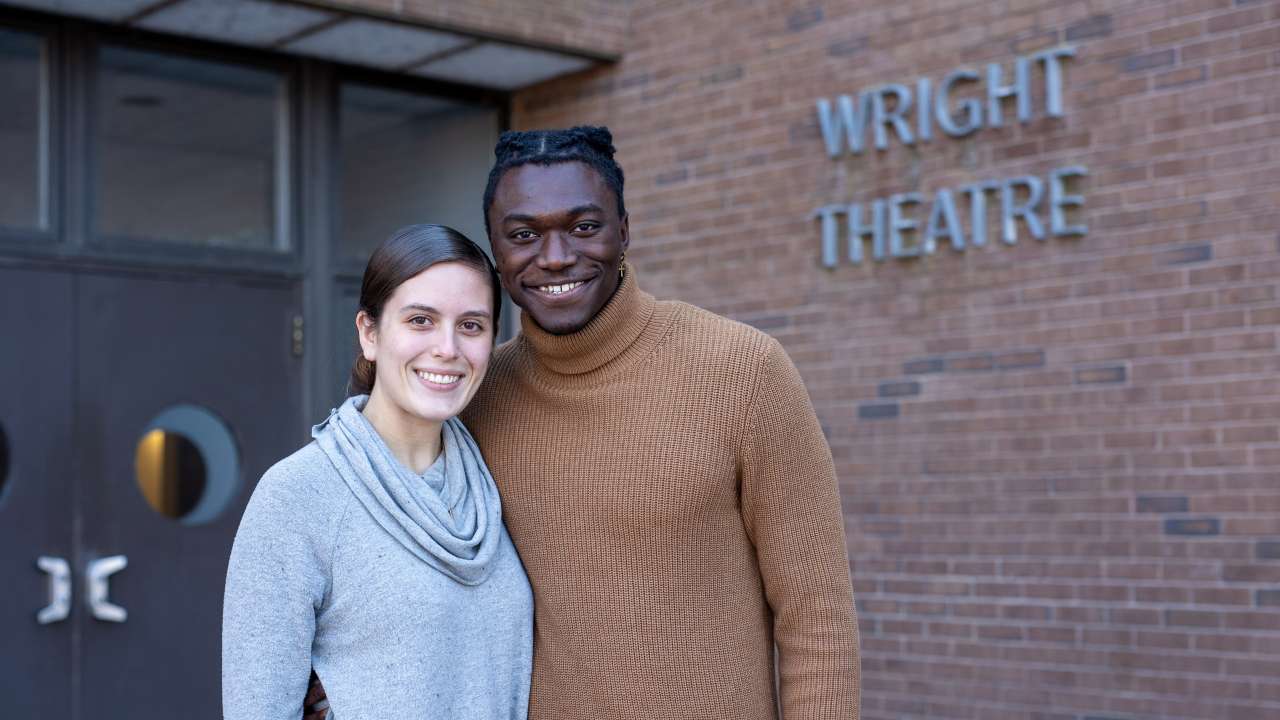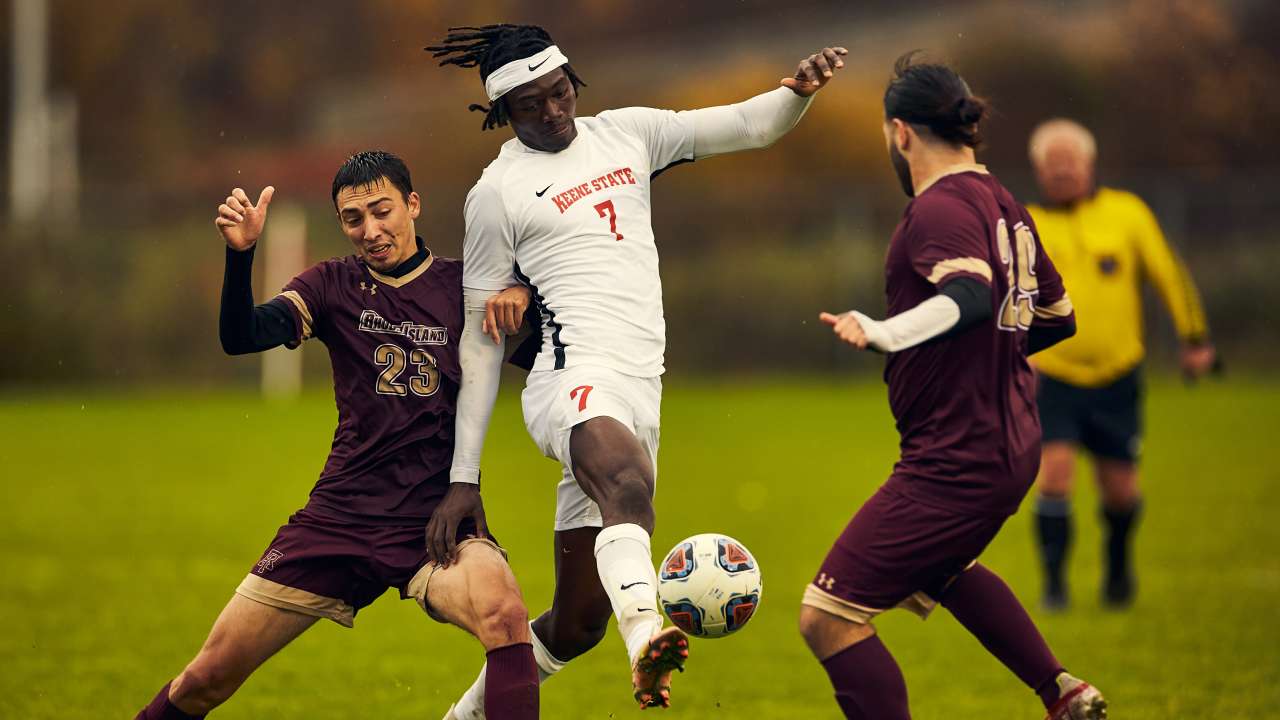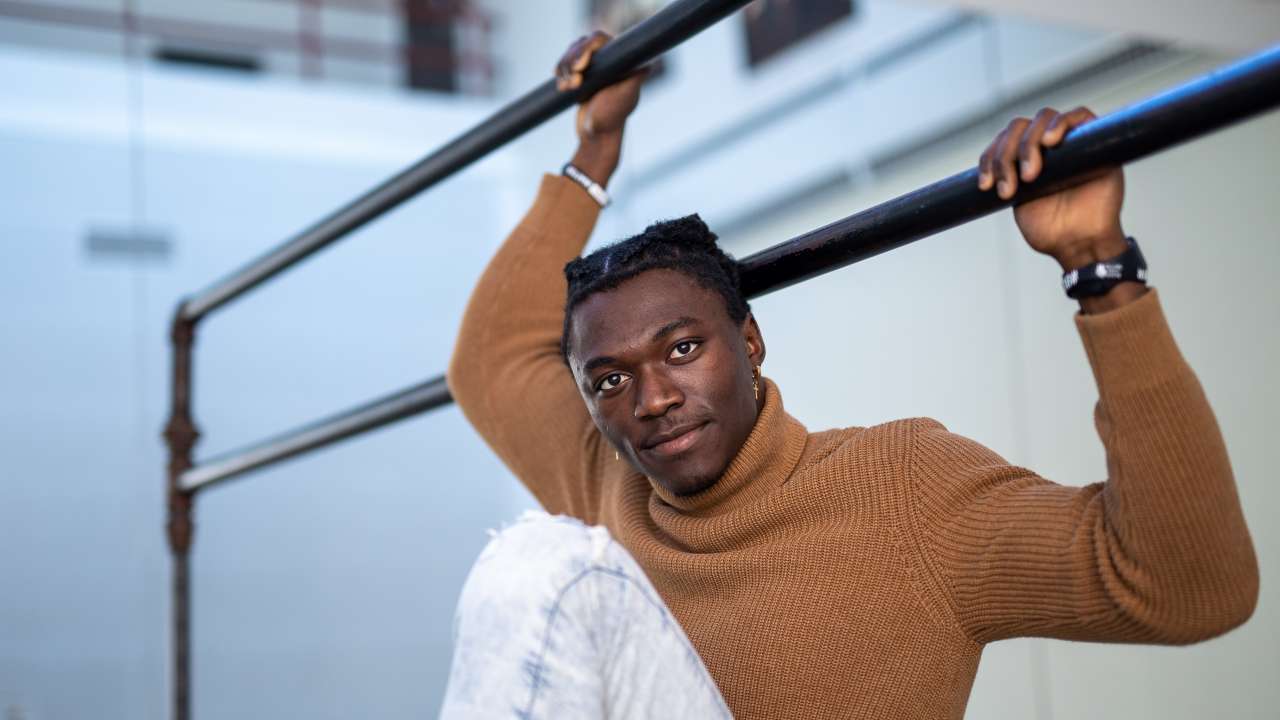 Related Stories