Dr. Karen Stanish Honored with 2017 Faculty Distinguished Service Award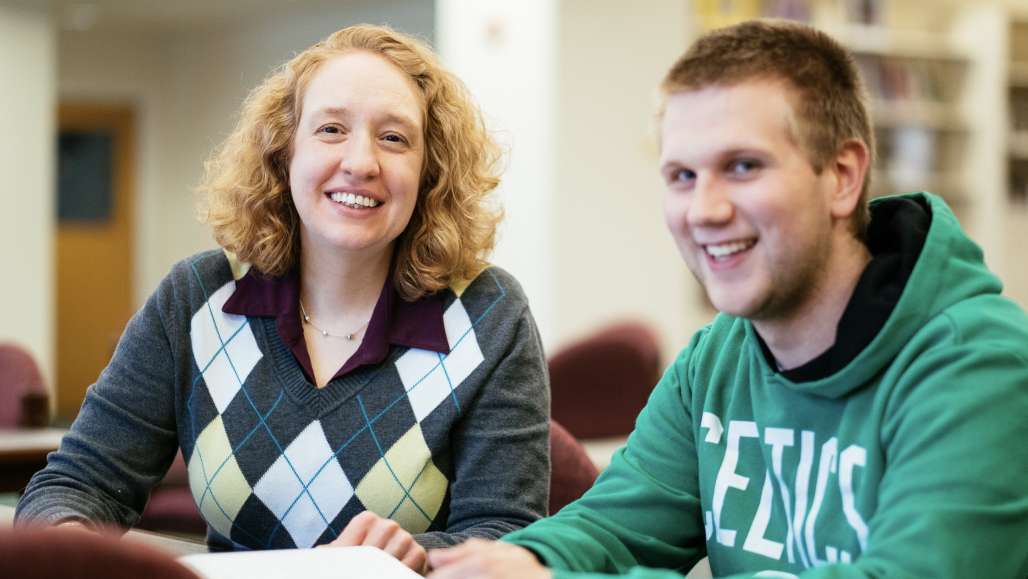 We are pleased to share that Dr. Karen Stanish, assistant professor of mathematics, has been selected to receive the first ever Faculty Distinguished Service Award. This award recognizes faculty members who have dedicated themselves to a variety of efforts over a significant period of time at the College, and who have gone above and beyond the levels of service that are typically associated with faculty advancement at the College.
Associate professor of film Debra White-Stanley, offered these words in support of Karen's selection: "Karen has served in many different service capacities with a positive impact on community life at Keene State College. These service contributions have been distinguished by a commitment to building procedures and policies that define key initiatives and thereby move the institution towards its goals. Karen's consensus-building efforts recognize different stakeholders and competing perspectives, ensuring that these voices are heard. Her consistent follow-through in ensuring that work that has been started is moved through the process with efficiency. She is a personal role model that inspires me to improve and grow."
Karen has a track record of many years of dedicated service through multiple service activities that have consistently contributed to meaningful change at Keene State College. Karen's campus service contributions began over a decade ago, and include the Strategic Planning Council, the Campus Planning Committee, and both the 2010 and 2015 NEASC Self-Study. She has served as Chair of the Senate and the Senate Executive Committee since 2012, a role in which she has demonstrated diplomacy, leadership, and collegiality.
Kim Schmidl-Gagne offered this about Karen: "From the moment we met she has impressed me as a faculty leader who demonstrates a commitment to working with students and colleagues to achieve excellence and make a difference in our community. She helps us all understand our individual and collective responsibility, to and for each other, and the College … Karen has served and strengthened our community from the moment she arrived at Keene State College."
Please congratulate Karen when you see her, on this much-deserved distinction.
Related Stories