Ally McCall Transfers to KSC to Become a Field Hockey Superstar & Future Teacher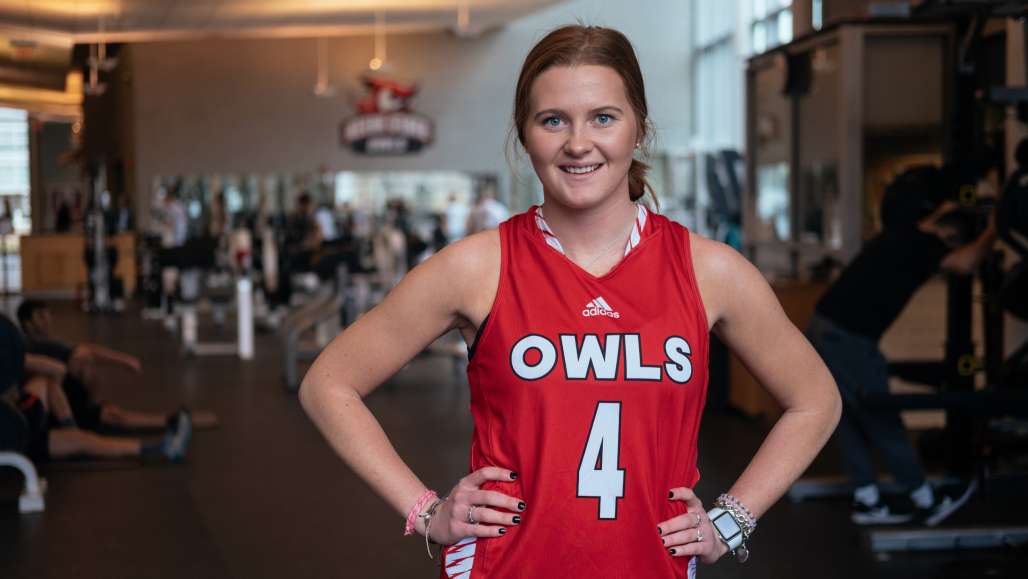 While most athletes who play for Keene State College are recruited by their future coaches, Ally McCall '20 found her way to the field hockey team in an unconventional way. After spending a year at a large university, Ally knew she would be happier studying at and playing for a smaller school.
"I wanted more of a balance between my academics and my field hockey, and I thought I would do better academically in a smaller setting," said Ally. When she made the choice to transfer and started looking at schools, Keene State was immediately on her radar. One visit to campus and a meeting with Head Coach Amy Watson solidified her decision. "I visited and I ended up loving it. There's more of a community feeling here and that's huge for me," she said.
Her decision has been a big win for Keene State field hockey. In 63 career games at Keene State, she's scored 10 goals and assisted on 34 more, 18 of those in the 2019 season. During her junior year, Ally was named the Little East Conference Defensive Player of the Year and the Most Outstanding Player of the Little East Conference tournament. She was also chosen to play in the National Field Hockey Coaches Association Division III All-Star Game, a selection of the 60 best Division III field hockey players nationally.
"I love being able to represent the college in this way," Ally said. "It's something I'm super proud of, especially because as a team we've had many successful seasons. The NFHCA game will be my last time playing field hockey competitively, so it's very special and I'm very honored to be selected."
When Ally's off the field, she's focused on her studies as a math and elementary education double major. Many of her family members work in schools or are teachers, so a path in education always made sense. Since education majors must chose a second major, Ally's advisor suggested math since she did well in math in high school.
"I picked math and ended up enjoying it," said Ally. "I love the Math Department here. The students and the professors are very close. I like that I can just walk into their office anytime if I have questions." While Ally wouldn't turn down a job as a math teacher, she's more excited at the idea of being in the classroom full time and getting to teach a range of subjects to children.
To students thinking about becoming a student athlete in college, Ally says go for it. "The first day I got to campus, I had 20 friends so it really made the transition much easier. My teammates are always behind me and the upperclassmen were always there to answer questions about school, where to live, or the best place to eat in town," she said.
Those bonds have turned into lifelong friendships beyond field hockey. Ally lives with four of her teammates and they often hang out and study together. "I love living with my teammates. Everyone on the team has great chemistry with the other players, but spending so much time with my roommates definitely transfers to the field," said Ally.
"Thinking about my overall time here at Keene State, coming here was the best change I ever made," added Ally. "Having the balance of playing the sport I love, getting an amazing education, and also finding the friends I'll have for the rest of my life, I could not have asked for a better experience."
Related Stories