American Chemical Society Honors Keene State Student Chapter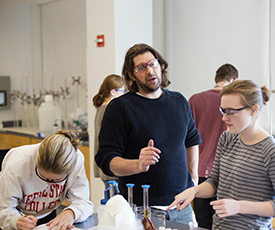 Keene State College's American Chemical Society student chapter recently received a commendable award from the American Chemical Society for the work it conducted during the 2015-16 academic year.
The American Chemical Society noted in the award letter to Keene State that, "Professor Kraly and Professor Junge's efforts certainly represent the best in undergraduate science education and mentoring around the country." The letter also noted that Professors Kraly and Junge are "setting such a fine example for other chapters" and are "exemplary chemistry ambassadors".
Chemistry students work closely with Keene State faculty, who spend hundreds of hours in the lab with majors beyond the introductory General Chemistry course. As a result, students quickly pair up with faculty members to work on research projects in areas of mutual interest.
More than 400 chapter reports from across the United States were submitted for consideration by the American Chemical Society. Keene State's chapter was selected for one of 93 commendable awards that were given.
For more details about Keene State College's Chemistry program, visit the department's web pages.
Related Stories