Chemistry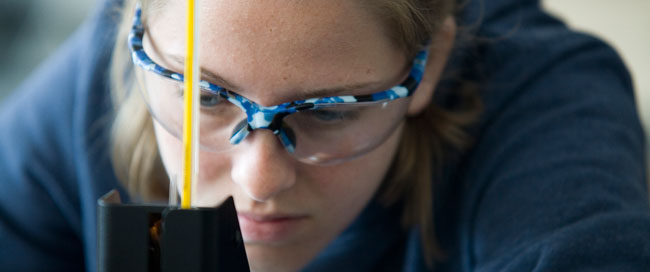 From the first introductory course through advanced study, Chemistry students have access to all of KSC's facilities and equipment, and original research is encouraged and facilitated by the faculty. The Chemistry program is essential for anyone aspiring to a career in science.
At Keene State, everything we have – faculty, facilities, instruments – is devoted to the undergraduate. Our goal is to work intensely with undergraduates to get them ready for a well-balanced, successful professional life. We work here because we want to help every step of the way.
---
Chemistry students at Keene State may complete a comprehensive BS degree (which meets rigorous American Chemical Society standards) or a BA degree designed to combine with a major or minor in another subject, like biology or education. As a chemistry major, you can engage in independent study and research projects, travel across the country for summer research (or stay at Keene to do the same), or work in local industrial training sites in addition to your coursework.
Where can a Keene State degree take you? Many of our seniors go directly to graduate programs in chemistry, enter medical, dental, or pharmacy schools, or enter health-related, industrial, environmental, or teaching careers. The faculty will work with you to help you imagine your future. More about Program Overview
---
Chemistry students have the opportunity to connect one-on-one with the program's distinguished faculty members. Chemistry faculty at Keene State commit to spending at least 400 hours in lab with majors beyond the introductory General Chemistry course. As a result, students quickly pair up with faculty members to work on research projects in areas of mutual interest. Also, being grounded in the liberal arts at Keene State, the Chemistry Program brings various perspectives to the student experience, to broaden the dialogue and understanding of how chemistry plays a critical role in our world. More about Chemistry Students Benefit from Faculty Connections and Hands-On Research
---
Chemistry students at KSC have gone on to graduate programs at Cornell, Dartmouth College, Purdue University, Clark University, University of Colorado, Boston University, Brandeis University, and many other institutions. Some have gone on to medical school. Many others obtain teaching certification and find careers teaching middle or high school science – a critical need in education. Many others are working in industry, including Markem-Imaje, Pfizer, Monsanto, Strem Chemicals, and other companies. More about Life after KSC: What Our Grads Are Doing
The Keene State Chemistry Department helped me get where I needed to go. From my perspective, I think it's the best department on campus. There are tremendous facilities and the faculty is very dedicated – they challenge you in a way that promotes problem solving. The program is a real gem.

– Sean Millikan
---
KSC's faculty in chemistry teach undergraduates from their first course on, offering a wealth of expertise and connections within the field.
Dr. Paul Baures, an expert in biochemistry and medicinal chemistry, holds the endowed David F. Putnam Chair. His research ranges from sucralose to Lyme disease to organisms with natural antifreeze. Read more
Dr. Jerry Jasinski, recently awarded a Fulbright Scholar grant to lecture and do research at the University of Mysore in India during the 2013-14 academic year, focuses on the use of single crystal X-ray crystallography as a state-of-the-art tool in identifying pharmaceutically active molecules. Dr. Jasinski, who has mentored many KSC students, was instrumental in helping KSC acquire a sophisticated single crystal X-ray diffractometer, which students from six nearby New England colleges use for research and collaboration. Read more
Other Chemistry faculty members bring similar levels of expertise and a great variety of interests. Because of the stellar faculty and high-quality facility in the David F. Putnam Science Center, Keene State was accredited in the fall of 2013 by the American Chemical Society. The rigorous accreditation process requires that all aspects of the program meet national standards set by experts in industry, graduate schools, and government agencies.
Talk with a chemistry professor: Contact Dr. Richard Blatchly at rblatchly@keene.edu to arrange a conversation More about Meet Our Faculty
---
Wise up!
Contact Admissions
Request information
Chemistry
Emma Wilson
Administrative Assistant
603-358-2540
Admissions Office
800-KSC-1909
229 Main Street
Keene, New Hampshire 03435
---