Keene State Sends Three Students to Dartmouth on ISURF Grants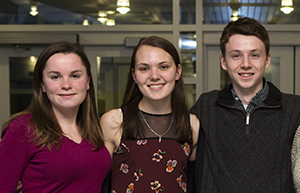 Three Keene State students – Rachel Klaski, Evan Dunkley, and Elizabeth McGurk – were awarded ISURF fellowships this summer. Of the 12 prestigious slots available, Keene State College claimed more than any other participating institution.
The Summer Undergraduate Research Fellowship (ISURF) program provides a ~10-week full-time immersion experience designed for undergraduate students looking to acquire skills and knowledge that apply directly towards research careers and/or graduate studies in the biomedical sciences. Students are matched with opportunities that complement their current research interests and career plans, and they do their research in laboratories located at Dartmouth College, the Geisel School of Medicine at Dartmouth, Dartmouth-Hitchcock Medical Center, or at off-campus laboratories in the private sector.
The ISURF program is made possible under the New Hampshire IDeA Network of Biological Research Excellence (NH-INBRE), a state-wide initiative led by the Geisel School of Medicine at Dartmouth College and the University of New Hampshire, designed to develop a coordinated network of biomedical research and training. INBRE supports research in human health, neurobiology and behavior, molecular and cellular biology, and microbial pathogenesis. The INBRE program at KSC supports biomedical research on campus through student employment, travel, research supplies, and equipment.
Rachel Klaski: Fighting Skin Cancer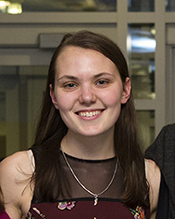 Senior Biology/Environmental Studies double major Rachel Klaski is working in the department of immunology and microbiology at Dartmouth Hitchcock Medical Center, studying how immune cells, such as T-cells, respond to melanoma tumors, a form of skin cancer. "I am specifically interested in a population of T-cells called cytotoxic T-cells, which have the ability to kill cancer cells," the Chesterfield, New Hampshire, native explained. "The overall goal of my project is to identify where these cytotoxic T-cells are coming from and determine what other cellular requirements are necessary for them to do their job. To do this research, I have been preforming immunohistochemistry, which is a way to detect specific antigens in cells. This allows me to target a specific antigen on or inside a cell with its corresponding antibody which has been altered in a lab to contain a visible label. This process allows us to visualize the distribution and localization of specific cells or cellular components."
Her lab experience is challenging Klaski and pushing her outside her comfort zone. "I believe this is what has made this program so worthwhile, because we are all working on projects that are unfamiliar to us and we only have 10 weeks to learn everything that we can to get as much out of this opportunity as possible," she said. "I hope to go to graduate school to study either infectious diseases or pathology, and this program has helped me narrow my field of interest, which is important because now I have an idea of which schools will suit me best. Also, I'm really excited to bring what I have learned at Dartmouth back to Keene State, both in the classroom and in the lab."
Evan Dunkley: Starving Cancer Cells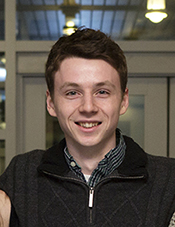 Senior Chemistry major Evan Dunkley has joined a collaborative effort between Keene State Professor Dr. Paul Baures and Dr. William Kinlaw from Dartmouth Hitchcock Medical Center. They're working to produce a molecule that can effectively inhibit the enzyme fatty acid synthase in an effort to fight cancer. This enzyme is prevalent in cancer cells and helps supply them with the necessary fatty acids (food) they need to multiply. The research's objective is to make a molecule that can slow down this enzyme's production rate without being toxic to the organism.
Dunkley, from Hinsdale, New Hampshire, has spent the past academic year at Keene State performing a series of parallel syntheses to create a library of molecules that were all similar in structure to each other, yet had key differences that would affect the efficiency and stability of the molecules. These molecules were sent to Dr. Kinlaw to test their ability to kill cancer cells and their stability. Now with Dr. Kinlaw, Dunkley is working to take the five most promising compounds to the next stage of testing. "We know that our compound is able to kill cancer cells, and we believe it is through the inhibition of fatty acid synthase, but we want to be sure that we are correct, so we will do an assay that answers this question," Dunkley explained.
"Through this experience, I am learning firsthand about what graduate school is like," Dunkley said. "I have also been learning valuable skills that will help me pursue a higher degree in medicinal chemistry."
Elizabeth McGurk: Stopping Fungal Pathogens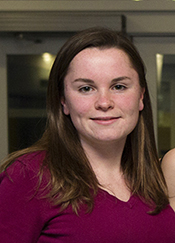 Senior Chemistry major Elizabeth McGurk is working in a lab that is researching Aspergillus fumigatus, a fungal pathogen that invades the lungs of patients with compromised immune systems, such as those with HIV or those undergoing chemo therapy. The fungus is able to adapt to and grow in hypoxic conditions, where oxygen levels are low in the host, and the lab has identified genes that may allow the fungus to adapt to low-oxygen environments. Manipulating these genes may be a potential key to curing Aspergillus fumigatus infections in patients.
"I've been working on making a null mutant of Aspergillus fumigatus," New Ipswich, New Hampshire, resident explained. "In basic terms, I've been trying to replace one of the genes suspected to be important for growth in low oxygen with a nutritional marker. Studying how this mutant grows in low oxygen and how it responds to specific toxins and other stressors will shed light on how the fungus adapts to hypoxic conditions. This could lead to potential treatment options for infections of A. fumigatus."
"Stepping out of the chemistry labs I'm used to and into a microbiology lab for the summer has really broadened my laboratory experience," she said. "Along the way, I've learned a variety of microbiological and genetic lab techniques that I had never seen before. I'll be able to take the skills I've learned this summer, along with those I've learned at Keene State, and apply them toward future research. This project has definitely changed my scientific perspective for the better."
Related Stories