Andy Soucy '72 Takes Londonderry Band to Tournament of Roses Parade – again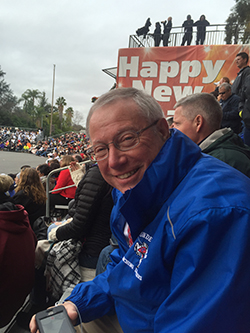 If there's one place on earth where band geeks rule, it's at Londonderry High School, thanks in large part to 45 years of dedicated music instruction from the school's music director, Andy Soucy '72. First, the music program attracts a lot of budding musicians. There are five bands, a drumline, two jazz ensembles, two choral groups, a 30+ string orchestra, and four piano classes (of 20 students each). And there's a lot of trickle-down from that strong influence. "Our solid music education has affected our entire town – our three elementary schools include a band, chorus, and string ensemble; our middle school includes 11 bands, 11 choruses, and three string ensembles," Soucy explained.
Soucy went to work at the Londonderry School District right after he graduated from Keene State, and all his hard work and dedication since then has paid off in spades. The Londonderry Lancers marching band has been invited to play at about every venue you can imagine. They performed at both inaugurations for President Obama and have marched every March 17th for the past several years in New York City's St. Patrick's Day Parade (winning First Place on numerous occasions). They were in China in 2008 and have performed on the USS John F. Kennedy aircraft carrier, at two Patriots games, and at Disneyland and Disney World – and far, far too many other venues to list here.
And next year, they've been invited back to march in the 2018 Tournament of Roses Parade in Pasadena, California. They're the only marching band in New England or New York to receive such an invitation, and this will be their fifth time to perform in the parade. Obviously, Londonderry's marching band, and the school's music program, have reached a rare level of excellence and these musicians deserve all the accolades and opportunities that come their way.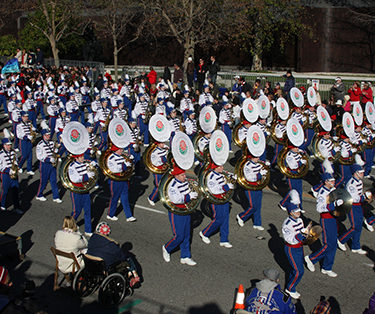 "As you can imagine, we are thrilled and looking forward to an exciting year ahead, which will include many extra rehearsals, physical conditioning, and heavy duty fundraising," Soucy said. "We have been so fortunate to have had the support of our administration at all levels, as well as our terrific community over the years. We consider our students musical ambassadors and always expect first-class behavior and a top-notch attitude. In a society which values music as an important part of our culture, it is our view that music education should be a basic part of a complete education. It serves a vital role in developing and nurturing the talents of our learners at all levels – as they study, interpret, and perform, bringing joy and great experiences to themselves and others. Through my many years, it has been a pleasure to see young musicians become standouts through the music program – a place where students learn teamwork, develop self-esteem, and become comfortable in leadership settings."
And his students understand the opportunity he offers them. "The Londonderry High School music department gave me some of my greatest memories of my time in high school," recalled Keene State music major Joe Conti '18. "The trips we went on and the parades I was able to lead as drum major for two of those years were some of the greatest honors I could have had. I was inspired by Mr. Soucy and Mr. Beaulieu to come to Keene State as a Music Education major and found that performing and teaching were two things I loved to do more than anything. I am so grateful for the opportunities this department was able to give me and I hope I can inspire others around me the same way someday."
WMUR News 9 also picked up on the excitement. Check out the station's report on the band's trip to the Tournament of Roses Parade next year.
Related Stories