Andy Soucy '72 Leads Londonderry Marching Lancers to 2nd Obama Inauguration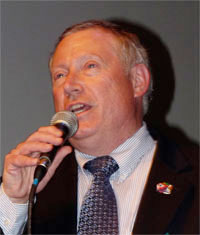 Under the directorship of Andy Soucy '72, the Londonderry High School Marching Band has racked up an impressive array of awards and guest performances. For example, they've toured Beijing, China, and represented New Hampshire in the Pasadena Tournament of Roses Parade four times. They travel annually to New York City to march in the St. Patrick's Day Parade. And on the 21st of this month, the Lancers have been invited to Washington, DC, to perform at President Obama's inauguration. For the second time—they were also invited to his first swearing in ceremony four years ago.
NH's Senator Jeanne Shaheen sent a letter to the Presidential Inaugural Committee in support of the Marching Lancers' application. "The Londonderry High School Marching Lancer Band has performed across the globe and has served as terrific ambassadors for New Hampshire," she said.
"This honor is also an opportunity to showcase the value of music education in our state as we represent its many fine high school programs, …" Andy Soucy noted.
Mr. Soucy has himself earned many awards for his years of dedicated and enthusiastic support of music education. In 1995 the Londonderry Chamber of Commerce honored him as "Teacher of the Year," the New Hampshire Music Educators Association (NHMEA) in 2000 named him "Music Educator of the Year," and that same year the Londonderry Chamber of Commerce named him "Citizen of the Year." He was inducted into the Hall of Fame for NHMEA in 2006. The Derry-Londonderry Chamber of Commerce recently recognized him as "Citizen of the Year" for 2010. He was also given the KSC Music Department's Distinguished Alumni Award in 2011.