Jordan Kimble '08 Performs with Full Spectrum and Grace Potter on Conan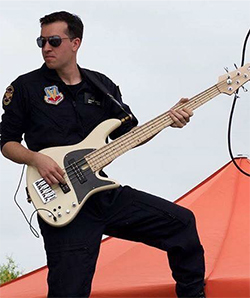 Last month, Jordan Kimble '08 and the US Air Force rock band Full Spectrum took the Conan stage with Grace Potter for a rockin' version of "Proud Mary." Wow! How'd he get from here to there?
"After I graduated in 2008, I joined the Air Force Band in May of 2009. My full-time job is touring around the country as bassist and tour manager for Full Spectrum. I've played everything from NASCAR and MLB and NFL games, to performing on live TV on Good Morning America and late night TV shows, to high schools and veterans homes, and I've even deployed to perform throughout the Middle East for our troops and foreign dignitaries. That's where we met Conan O'Brien and first performed on his show with Grace Potter in November 2015." A year later, they were back.
"I was a music education major while at Keene State, and spent most of my time in the practice room and playing in bands. I had a lot of great teachers, including Don Baldini, Dr. Jim Chesebrough, and Scott Mullett. They all had a great impact on my career, but Scott Mullett really took me under his wing and would meet with me and a drummer friend of ours every Tuesday night at 10 p.m. and we would play jazz sessions for two hours. It was here that I honed my skills as a bassist and really learned how to be a professional musician in the real world. He taught me how to play, but he also taught me that this industry is  about relationships and how to talk with people. The stories he used to tell us still stick with me today."
"Jordan Kimble was like a musical sponge when he was a student, and I assume by the way he currently plays that he still is. He absorbs everything of interest and value to his musical pursuits, and uses it all in beautiful expression," Mullett recalled. "I have had many gifted students over the years at KSC with whom I've shared my experience, but Jordan stands out among them."
"Keene State was a great place to learn who I wanted to be and what I wanted to do in life," Kimble said. "It was here that I met the love of my life – jazz music (just kidding) – my wife Amy (class of 2008) with whom I now have a baby girl, Natalie. I owe a lot to Keene and my professors who helped me get the gig I have today."
And here's that great Conan performance:
Related Stories