Scott Mullett Brings Real-Life Music Experience Into the Classroom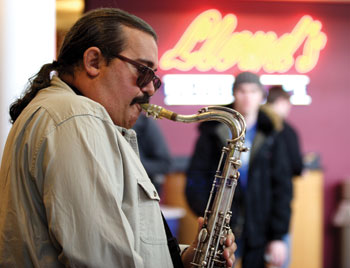 Scott Mullett's stage and audience is a lot smaller these days. Instead of playing major venues around the world, touring with some of the greatest big bands of our time, including the Artie Shaw and Woody Herman bands, and performing with legends like Tony Bennett and Aretha Franklin, the talented tenor saxophonist can be found back home in the Monadnock area and in the music studios in the Redfern Arts Center on Brickyard Pond working as an adjunct instructor in the Keene State Music Department.
Mullett, who specializes in melodic improvisation, contemporary harmony, and jazz history, said the transition from the stage to the classroom was a lot easier than he expected. "I honestly love it. I love to see the 'cats' achieve," said Mullett of working with students.
While Mullett wants to see all his students succeed, he knows he has to temper his expectations. "In my classroom it's up to me to teach them, so I don't expect them to play like the guys I used to play with," he said.
However, he has an honest, no-nonsense, and philosophical approach to teaching that puts the onus on his students. "I look at my students and say, if this is what you want to do, show me this is what you want to do. Do what you can say you can do. It's pretty simple."
A musical protégé growing up in Keene, Mullett remembers as an eight-year-old being enthralled watching the Glenn Miller Orchestra play at the then-Keene Middle School on Washington Street. Undaunted, Mullett, who played flute at the time, went up to speak to several saxophone players after the performance. "They told me you have to play sax to be in the band, so I had my mother find me a sax and started teaching myself how to play," he said.
Accompanied by his mother, Doris, on the accordion, Mullett was a quick study, learning to play by ear. Playing his first gig at the Keene Country Club at the ripe age of 14, he was not only playing, but closely observing. "I didn't even notice the crowd; I was listening and watching all the players. How does he do that?" said Mullett. "It didn't hurt that you get paid in cash at the end of the night," he added.
"These days I teach middle school kids and I look at them and say, I was out five nights a week at night clubs, bars, and hotels when I was your age," said Mullett.
Mullett got some good training in Keene, learning the tricks of the trade from his middle school band leader John Moran and high school teacher Robert Cummings. "Mr. Moran kept a bucket of broken drum sticks up by the conductor's stand and if you were goofing, he would throw one right across the band with incredible accuracy and hit you right in the hand," said Mullett.
The long hours of practice paid off when he was selected for a summer program at the prestigious Juilliard School in New York City, and later earned a scholarship to the Berklee College of Music in Boston. As much as Mullett was there to learn and hone his skills on the horn, he also took advantage of making connections with others artists that would lead to opportunities down the road.
Mullet was anxious to hit the road, embarking on a two-decade performance career that would take him around the world. He toured with leading bands and directors including Herman, Shaw, and Lionel Hampton, and performed with a who's who among top entertainers, including Mel Tormé, Rosemary Clooney, Donna Summer, and The Temptations. "My instincts always told me if you want to be on the road, do it while you're young, because at some point, you're not going to want to do it anymore," he said.
Mullett enjoyed his time on the road. For all the low notes that came with the tedious travel, cheap hotels, and on-the-fly meals, there was always one high note – the music. "When you play a concert with someone like Tony Bennett, you say to yourself, this is what it's supposed to feel like and sound like," said Mullett.
However, he is quick to point out the need to be disciplined. "People pay a lot of money so it has to be right," he said. "If you have a bad meal or a fight with a girlfriend 3,000 miles away, you have to be on the bandstand."
If you're not in tune or a little off key, the silence can be deafening. "You notice guys don't talk to you and one day the road manager calls you up in the middle of the day and tells you to come to the room. He'll give you an envelope with some cash and a plane ticket and tell you they're sorry it didn't work out," said Mullett. "You have to be on top of your game every moment."
Unlike a lot of rising and starving musicians, Mullett felt fortunate that he had steady work, allowing him the opportunity to concentrate on his music and become more of an artist. But after countless concerts and stints working the cruise line circuit as executive music director, it was finally time to go home.
Returning to the Monadnock area to be with his ailing father, Mullett never left. There wouldn't be one more for the road. Suddenly unemployed and looking for work, he began coaching kids and giving lessons.
Mullett admits that his first foray into teaching didn't go well. Initially more interested in earning c-notes than listening to the notes emanating from his students' instruments, he changed his tune the second time around. More mature and secure both personally and professionally, he has learned to appreciate the interaction between student and teacher.
"I tell my students at the start of every semester that 'It's my honor to teach you,'" said Mullett, who began working as an adjunct music instructor at Keene State in 2006. "I think it's very important that the students recognize your commitment to them."
While he rarely speaks to his students about his past, Mulllett readily imparts his real-world experiences. "In the real world it's yes or no. Yes, you are cutting it, or no, you're not. It's that simple," he tells his students. "In class, students have four months to put together one concert. I often had 40 minutes to put together a three-hour show."
Mullett is the first to impress on his students the importance of getting a degree, but at the same time knows there's something to be said for the education you can't get in the classroom. What college allows you the chance to talk about the sweet saxophone sound with Stan Getz? Or talk about the calming and hypnotic clarinet sound with Artie Shaw?
Mullett's tell-it-like-it-is approach emphasizes the "real" in real life. What does he bring to the classroom? "Someone who is live and in person," he says.
Much as he did as a kid, Mullett, who continues to perform in the area and around New England, fronting his own quartet and playing with the White Heat Swing Orchestra as well as doing studio work and directing the Keene Jazz Orchestra, strongly encourages his students to see live performances. "You might be a drummer or you may be a saxophone player, but you can see the timing and the precision that they play with. It's live and in person."
Mullett says the best advice he can give to his students came from his father, Francis, who told him to find a job he'd love doing.
Harkening back to the time of his youth and the undeniable impact of seeing the Glenn Miller band perform at Keene High, Mullett remembers hearing the musicians play "Moonlight Serenade" as the curtain opened, and knowing he'd found a job he'd love to do.
Related Stories