Do you know an outstanding woman in New Hampshire who deserves recognition?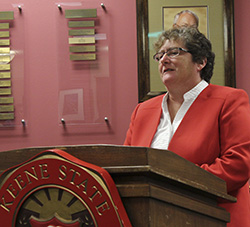 Keene State College is taking nominations now for its 27th annual President's Outstanding Women of New Hampshire Awards!
In March 2017, Keene State will celebrate National Women's History Month, and honorees of the awards will be announced. This year's national theme is "Honoring Trailblazing Women in Labor and Business". We will honor women who have successfully promoted equality for women in business and in the paid labor force.
The President's Outstanding Women of New Hampshire will be awarded in the following categories:
Keene State College Student
Keene State College Faculty or Staff
Greater Monadnock Region
State of New Hampshire
Nominations must be submitted by 4:30 p.m. ET, on February 15, 2017. Please use our online nomination form.
As part of the campus celebration, on March 28, 2017, the awardees will be honored at an evening ceremony, free and open to the public, where their accomplishments will be recognized. Awardees must be in attendance.
Read our story about last year's recipients.
The awards are sponsored and supported by the Keene State College President's Office, Diversity and Multiculturalism Office, and the Keene State College Outstanding Women of New Hampshire Awards Committee.
Related Stories