KSC Announces 26th Annual Outstanding Women of NH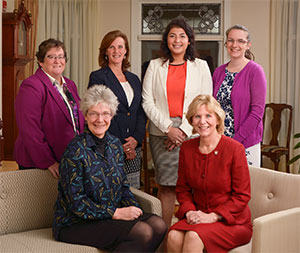 Keene State College celebrated its twenty-sixth annual Outstanding Women of New Hampshire award honorees in late March. The awards, which are given during National Women's History Month, honor New Hampshire women who have shaped America's history and its future through their public service and government leadership. This year, the awards recognized Alyssa DeMarco, Keene State senior; Kya Roumimper, Keene State senior; Kathy Harrington, president of Monadnock United Way; Dr. Renate Gebauer, Keene State Environmental Studies professor; and New Hampshire Senator Jeanie Forrester.
The Outstanding Women of New Hampshire event is sponsored by the Campus Commission for Diversity, Equity & Inclusiveness, American Association of University Women – Keene Chapter, New Hampshire Women in Higher Education Leadership, National Women's History Project, and Keene State College Mentors in Violence Prevention.
Background on Awardees
Alyssa DeMarco is a senior whose nominators champion her as someone you can count on, an engaged community member, an active learner, an organizer, a leader, a motivator, a collaborator, and the epitome of a well-rounded liberal arts student. She is a first generation college student from Walpole, Massachusetts with a double major in Sociology and Holocaust and Genocide Studies. She is a member of the Holocaust and Genocide Studies Club, Debate Club and American Democracy Project. She works as the student assistant at the Cohen Center and as a valuable tour guide for Admissions.
Alyssa works hard for what she believes in and demonstrates great determination. She is a champion for basic human rights, motivates her peers and is working toward establishing a stronger democratic society through her leadership role with the American Democracy Project. She will graduate in May and has managed to accomplish all this in four years while keeping her grade point average above 3.0. Her hard work and dedication to raising awareness of issues and starting important conversations on campus, has made a real difference for current students and those to come. Her impact, in her four years on campus, is certainly reflective of this year's Women's History Month Theme, "Working to Form a More Perfect Union: Honoring Women in Public Service and Government."
Kya Roumimper is a Travelli-Ayling Scholar, a creative and driven first generation college student from Hooksett, NH, and the granddaughter of Holocaust survivors. She encourages her peers to step outside their comfort zones, look at world affairs and immerse themselves in studying and trying to solve some of society's most vexing problems. Kya is known for her community service efforts, her advocacy, initiative, energy and enthusiasm for getting involved and doing something that matters – something that makes a difference for the greater good.
Kya gracefully articulates and stands up for what she believes in while remaining mindful that while she has the opportunity to do things, others may not have the same freedom. She is both an employee and active member of the Community Service Office and has led a number of events and service trips. She is a successful peer mentor. She took the admirable and ambitious initiative – completely on her own – to coordinate a summit on social justice issues inherent in higher education to be held on April 22. She planned and hosted a Keene State College Water Walk to promote awareness of the world's water crisis in developing nations.
Kya likes the idea of leaving a legacy at Keene State and going out into the world to make a difference. She is truly an inspiring woman in service who is the living embodiment of Enter to Learn – Go Forth to Serve and exceptionally worthy of being honored as a 2016 Outstanding Woman of New Hampshire.
Dr. Renate Gebauer is a passionate defender of the earth and the environment. Her Keene State colleagues consider her to be a superb professor modeling applied scholarship and research as well as engaged teaching and learning. Professor Gebauer is a vital, supportive and influential colleague for the entire Keene State College community. Her engaged service contributions are critical to numerous initiatives on campus that address environmental sustainability and climate change. She has also donated her time to service the broad educational mission of Keene State through chairing or serving as a member of numerous influential committees. She guides students in the non-major courses she teaches to consider their personal energy footprints as well as working with environmental studies majors' community outreach projects including work with the City of Keene and beyond.
Since the devastating earthquake impacted Nepal, Professor Gebauer has been a tireless advocate for aid to be offered to Nepal. She raised funds on her own in Keene and in her hometown in Germany. She then traveled to Nepal where she helped to provide solar panels for all of the homes in a small village, which had been devastated and cut off due to the quake. Several years ago, on one of her trips, she met a Nepali student and found he had aspirations to go to college but not could not afford to. She has sponsored his expenses and he is now doing well. She has devoted considerable skills, determination and effort toward successful environmental awareness, restoration and sustainability, both here in the U.S. as well as in earthquake relief in Nepal. She is an exceptionally generous service-oriented agent for change and empowerment, and clearly worthy of this honor.
Born, raised and educated in the Monadnock Region, Kathy Harrington is a self-made New Hampshire woman. She has devoted her professional life to public service to make the Greater Monadnock Region a thriving and vibrant community for all citizens. She is currently president of Monadnock United Way (MUW) where her likable, compassionate and approachable demeanor enables her to engage the community and build its capacity to deal with significant social issues in a collaborative and inclusive way. Kathy used her leadership and collaborative skills as MUW President to engage a variety of groups in an innovative community change process to tackle the region's most pressing social challenges of child welfare, economic opportunity, and educational attainment.
MUW is an active convener, facilitator and community change agent for organizations across the region, which demonstrates Kathy's ability to build trust and relationships to better the Region and to develop a broad coalition across diverse sectors. She has led, organized, managed and promoted numerous events and causes that are inclusive of diverse populations. She has also been recognized as a Paul Harris Fellow for a life that demonstrates the shared purpose with the objectives of the Rotary Foundation to create a world built on understanding and peace. Kathy's devotion to mentoring and inspiring future generations is exemplified by her involvement with Leadership Monadnock and the Young Entrepreneurs Academy where she models to young adults how to live, work and contribute to the Region. The Monadnock community has benefitted greatly and in many ways from the service of this dedicated citizen who serves as a role model for women in our region and takes every opportunity to promote and support the accomplishments of others knowing that when one rises, we all rise. We are thrilled to honor Kathy as a 2016 Outstanding Woman of New Hampshire.
Senator Jeanie Forrester embodies what it means to be a public servant. She is a strong voice for her community, bringing the needs of her constituents to the forefront of everything she does in the New Hampshire Senate. In addition to serving as the Chair of the Senate Finance and Public and Municipal Affairs Committees, and participating on the Governor's Commission on Alcohol and Drug Prevention, Intervention and Treatment, she is active in finding and implementing solutions to the State's budget issues.
Senator Forrester most recently served on the Opioid Task Force, resolute in helping to find funding for solutions to the drug crisis in New Hampshire. She is a strong advocate for New Hampshire citizens. Whether the issue is around land conservation, public education, energy or economic development, or installing a guardrail along Route 3 through a dangerous area, or fundraising for homeless veterans, Senator Forrester takes on the people's cause. Her tone of respect for all is an inspiration and model for all in the legislature. She has established herself as someone who makes the time to meet with her constituents, and shows care and concern for all citizens in the state.
Senator Forrester's volunteerism and collaborative efforts have brought together alliances and engaged stakeholders that bring about positive results. Her involvement in charitable organizations, town and community-building efforts and her dedication to her role in the legislature is seemingly endless and thoroughly respected. Senator Forrester is a clear choice as a 2016 State of New Hampshire Outstanding Woman.
Related Stories