Brands Balances Life as a Citizen Soldier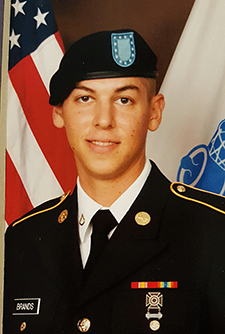 Waking up early for his first class of the semester, Taylor Brands said it felt like he never left as he settled into his seat at the TDS Center for one of his four safety and occupational health applied sciences classes. "I do very well adjusting to different environments," said the senior from Oxford, New Jersey, who recently added a safety major to his architecture one.
Brands knows a thing or two about adapting to different roles and regions. Back in June, he spent two weeks off the southern New Jersey coast in the township of Lakehurst, fulfilling his military commitment at Fort Dix as a member of the Army National Guard. "It wasn't too bad," said Brands about his training, which took place near the site of the 1937 Hindenburg crash. "I had the rest of my summer off."
Brands deserved a little down time. The previous summer he spent 18 weeks in the sweltering heat, taking part in basic training at Fort Benning in Georgia. "It's nothing I'd ever experienced before. The heat and humidity was unbearable," said Brands, who won't soon forget one of his last drills – a 20K rough march while carrying 50 pounds on his back. "Fortunately, we began the march at 9 p.m. and not in the middle of the day," he said.
According to Kent Drake-Deese, the associate dean of student and director of residential life and chair of the veteran student advisory committee, the College provides more general support systems for all veterans and active duty students and tries to maintain contact with them collectively and provide support as needed.
Highly disciplined and a self-described fitness fanatic, Brands first got interested in the National Guard when a recruiter visited his high school. "I would do the 50 push-ups for a t-shirt," Brands said.
Putting off plans to enlist, Brands came to Keene State to study architecture. "My grandfather was a draftsman," he said. "When I came to campus the new TDS Center really appealed to me."
A class taught by Jamie Ingalls, an assistant clinical professor in the Safety and Occupational Health Applied Sciences Department, convinced Brands to add a second major. "The more diverse I can be as far as employment the better," he reasoned. "I have so many avenues I can pursue."
Once in college, Brands fulfilled his other dream of joining the National Guard as a sophomore. "It's something I always wanted to do," said Brands, who is obligated to spend one weekend each month training in New Jersey. "I don't carry it over," he said. "When that weekend hits, I change modes and become a soldier, and when I come back up to school I leave it all down there and transition back to a student."
Brands, who signed on for a three-year commitment with the National Guard, says he has no regrets with the decision to be a citizen-soldier. "It's a life experience that most people don't have," said Brands, who is keeping his options open about reenlisting. "I have another year and a half to go, so we'll see how things go.
Related Stories