I'm proudest of my service in Iraq, graduating from Keene State, and becoming a Second Lieutenant in the US Army."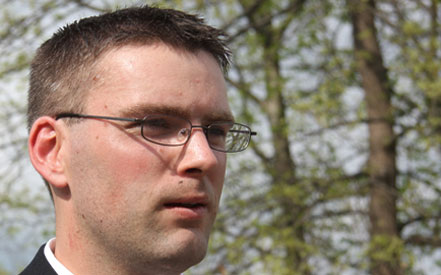 Keene State values our veterans – for what you have done and for what you can contribute – and offers the following resources to help make your experience at Keene State one that exceeds your expectations. We are willing to help with the transition to college life, show you how to get involved with the college community, and make sure you have access to all programs and activities.
---
Veterans Support Services (VSS)
"It is a good thing to come back, no matter what your age. Older people have so much to offer. When I go to class I am accepted."
– Sean Sullivan, Safety Studies, and a Marine veteran of deployments to Iraq, Japan, and Afghanistan.
VSS helps veterans navigate the academic and social support paperwork and programs that help you get the most from your educational experience. VSS works with a number of campus departments and offices to coordinate recruitment, orientation, retention, and graduation. VSS works especially closely with academic and student support services to ensure that your specific needs are addressed.
Mission of Veterans Support Services
The mission of Keene State College's Veterans Support Services is to implement and coordinate academic and social support programs that enable KSC veteran students to gain the greatest benefit from their educational experience.
In all pursuits, Veterans Student Support Services (VSS) strives to:
Enhance students' opportunities for active involvement in the College and the Keene community
Support individual and student group initiatives that address military to civilian transition issues
Assure that student veterans have equal access to all academic, social and recreational programs, groups and activities
Promote and incorporate into every aspect of campus life an appreciation for veteran's issues.
Questions or Concerns?
The Veterans Support Advisory Committee is a standing committee dedicated to making Keene State College a welcoming, comfortable, and engaging campus for veterans. Issues that detract from that goal should be brought to the attention of the committee.
---
How to get started
How one vet wove his military experiences into a KSC degree and a new career
Here's a story about the experiences of military veteran and KSC alumnus Josh Tuscher '06. It's a great read!
Veterans: If you are a military veteran, please call the Admissions Office or stop by for an initial conversation. An Admissions counselor will help you apply and complete the paperwork for your educational benefits.
Call today or stop by the Admissions Office in the Elliot Center.
Admissions Office:
603-358-2276 or 800-KSC-1909
Email: admissions@keene.edu
---
---
Contact the Veterans Support Advisory Committee
To reach the Veterans Support Advisory Committee, please email Kent Drake-Deese.