Keene State Welcomes First Ever Post-Doctoral Fellow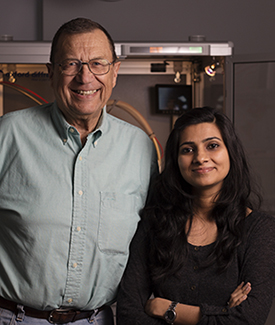 Keene State College's first ever teaching post-doctoral fellow arrived on campus from Mysore, India in early May and got right to work in the Single Crystal X-ray Crystallography lab with chemistry professor Dr. Jerry Jasinski, who conducts research that describes the molecular structure of substances which often leads to the development of new pharmaceutical products.
Dr. Manpreet Kaur, graduate of the University of Mysore was brought to campus through a gift to Keene State that was specifically intended to fund a post-doctoral position working with Dr. Jasinski on his research in crystallography as well as to teach chemistry.
Dr. Kaur and Dr. Jasinski met during Jasinski's Fulbright fellowship at the University of Mysore where he helped three doctoral candidates more fully understand the art and science of crystallography.
"I worked with him during that time and most of the crystallography that I know today is because of what I learned while he was there. I was interested in crystallography from the start, but when he showed up it all became so easy," said Dr. Kaur.
Dr. Jasinski also saw potential in the doctoral candidate during his time in India.
"Manpreet was very interested in what we were doing and was very interested in crystallography," said Dr. Jasinski. "She did not have an X-ray diffractometer available to her, so she had learned to do the theoretical parts – such as solving the structures from the data that comes off the instrument. But to really understand crystallography you have to know how to collect and interpret the data that's coming off the machine and that's one of the things she wanted to learn."
While opportunities to use X-ray crystallography and learn the skills are available elsewhere, Dr. Kaur said she felt that Keene State would be the optimal location to continue her work both because she felt that Dr. Jasinski would be an excellent mentor as well as provide her unobstructed use of the X-ray diffractometer at Keene State instrument for her own work, which includes research into Alzheimer's disease drugs.
Along with her personal work, Dr. Kaur will be assisting Dr. Jasinski in his regional and global outreach which includes collaborators around the world related to the molecular structure determination of structures of mutual interest.
"Over the last several years I have had collaborators all over the world sending me samples; I do the crystallography piece and together we co-author many papers. It's been extremely valuable for me but also I involve all my students in my classes here at Keene State with this very special and unique state-of-the-art technique so that many of my students have become co-authors on major international peer-reviewed scientific journal articles," said Dr. Jasinski.
The symbiotic relationships that Dr. Jasinski has cultivated over the years are beneficial to Dr. Kaur, and she brings a unique benefit to the chemistry department by way of her unique worldview having grown up in India.
"I did some teaching back in India during my PhD and I think it's going to be a bit different here because of the cultural differences, but I'm excited about it," said Dr. Kaur.
Related Stories