Keene State Musicians Perform in Intercollegiate Band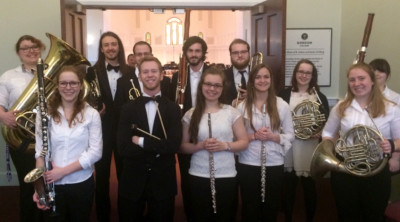 Twelve Keene State College students were selected to perform with the 2016 New England College Intercollegiate Band, an honors ensemble chosen from colleges and universities throughout New England and now in its 33rd year. This year's concert took place on April 2 at Gordon College in Wenham, Massachusetts. Players from Keene State were Danielle St. Amand and Angel Monroe, flutes; Justin Young and Caille Carmosino, bassoons; Hannah Benoit, piano and bass clarinet; Micayla Mahoney, Connor Thurston, and Rebecca Towne, horns; Joe Conti, trumpet; Sam Irvine, trombone; Hailley Dufresne, tuba; and Devon Larrabee, percussion.
The students are selected via a recorded audition that they submit to the New England College Band Directors Association, and they have the privilege of rehearsing and performing with internationally known wind band conductor, Allan McMurray, former Professor of Music and Director of Bands at the University of Colorado-Boulder. The band performed "Gandalf" from Symphony No. 1 (The Lord of the Rings) by Johan De Meij, the First Suite in E Flat by Gustav Holst, O Magnum Mysterium by composer Morten Lauridsen, and "Apollo Unleashed" from Symphony No. 2 written by Frank Ticheli. The weekend of music making began Friday afternoon when the Keene players joined with other top college musicians from across New England for a day and a half of rehearsals. By 7 p.m. on Saturday, these individuals were performing as an outstanding and expressive ensemble.
Related Stories