Irvine Has Plenty of Reasons to Blow his Horn About Keene State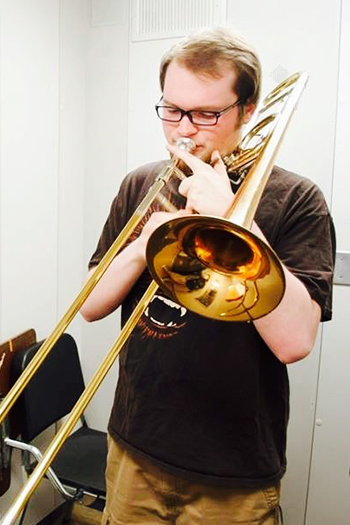 Ask Samuel Irvine to play his trombone with the Keene State College concert band, orchestra, or other campus ensemble and the affable senior from Concord, NH, is happy to oblige. Ask him to get up in front of a crowd and make a speech? Well, that's a whole different story.
"I'm petrified of public speaking, so I was thinking about the speech the entire time," said Irvine, who was asked to deliver remarks at Keene State's recent Celebrate Momentum reception, an event run by the Keene Endowment Association in conjunction with the College's Development Office that brought together leading contributors to the College and some of the students who benefited from their generosity.
Nervous or not, Irwin spoke about his love for music and how the financial assistance provided by the donors allowed him the opportunity to devote time to his two majors, music education and music composition, telling the crowd, "If not for your generosity, it's likely I would never realize my true passion, which I plan to practice for the rest of my life."
Samuel Irvine was destined for a life in music. The son of parents who each went to music school and met playing for the Air Force band in New Hampshire, Irvine didn't have to look far for inspiration or music lessons. "I was just interested in music from a young age because I was always around it," he said.
Getting his first instrument, a trombone, in fourth grade, Irvine, who didn't take lessons until his junior year in high school, learned to play by trial and error. Honing his horn skills, he often played and improvised with the family's makeshift jazz band, which included his dad on tuba, his mother on clarinet, his brother on trumpet, and his grandpa on piano.
Taking advantage of numerous opportunities to play in bands and orchestras at Concord High School, Irvine hit a high note, receiving the Concord Music Club and John Phillip Sousa awards.
Deciding to stay close to home and getting a ringing endorsement from Samantha Fowler, a 2014 KSC grad and music major from his hometown, Irvine packed up his trombone and headed to Keene State.
At the College, Irvine hasn't missed a note, splitting his time between music and music education classes as well as numerous practices, rehearsals, and performances. Irvine has also taken courses in composing. "I'm working on a Leonard Bernstein trombone solo right now. Even though the composer wrote it one way, it can mean a million different things to a million different people," he said. "No one person is going to play something the exact same way as another. That can tell you a lot about them as a player and maybe about their personality. When I hear other people play trombone I feel I know more about them than from talking to them sometimes."
Irvine's work at Keene State has drawn rave reviews. "Sam Irvine is a very talented musician as both a performer and a composer," said Dr. Elaine Ginsberg, a lecturer in the Music Department. "Last year he wrote a piece for chorus and another piece for brass ensemble that were both performed at Keene State."
"Sam is a really dedicated music student in both fields," said KSC Associate Professor James Chesebrough, who gave Irvine the honor of being his assistant conductor with the KSC concert band this semester.
Completing his music commitments this semester, Irvine will continue his lessons in composition and trombone and will play with several ensembles this spring. He will also perform a senior recital and prepare a portfolio for graduate school. "Beggars can't be choosers. It's not easy to make a living playing music, but I have several options I can pursue, including teaching," said Irvine. "Ultimately, I want to write a lot of music and hopefully get paid for it someday."
"Sam hopes to pursue composition in graduate school, and I predict great success as he has already demonstrated considerable talent and skill in this field," said Ginsberg.
Related Stories