Keene State Students Attend Eastern Economic Association Conference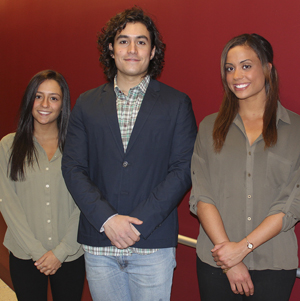 Keene State economics majors Shane Piesik, Amanda Pires, and Angela Silveri, accompanied by Dr. Marie Duggan headed to the nation's capital in february to present their senior projects at the Eastern Economic Association Conference in D.C.
Duggan said the presenters not only got to measure themselves against their peers, but also gained self-confidence. "They suddenly saw that their Keene State economics education prepares them to be competitive with students from the other schools and in many ways is better," she said. "It gave them a burst of self-confidence."
The students presented on diverse topics. Silveri, who is from Poughquag, New York, addressed why the share of income going to the top 20% of households has risen in the United States. Originally from Bridgeport, Connecticut, Pires looked at how different micro-economic factors (neighborhood crime rates, school ranks, unemployment rate, and average square footage) affect the cost of a house. Piesik, a native of Portsmouth, New Hampshire, took the audience out to the ball game, using statistics to explain what determines a pitcher's salary during the 2015 season.
"I'm nervous talking to people but I was definitely excited," said Silveri, who is also a top player on the Keene State volleyball team. "It was worth it. It's a great opportunity to talk about what you learned, meet people, and broaden your knowledge."
"It's been a long road to get to this point, but I was pretty excited to share my results and get feedback from people who are like-minded," said Piesik, whose grandfather (Andy "Crazy Legs" Piesik) played professional ball in the Northern League and once stole home against Yankee Hall of Famer Whitey Ford.
Students in Dr. Duggan's econometrics class are selected to present at the conference after submitting an abstract from their semester-long project to Issues in Political Economy (IPE), an undergraduate research organization managed from Elon University in North Carolina. This year's conference will include over 50 undergraduate presenters representing 23 schools. Many past participants, including Daniela Arias '05 and Robert Clifford '06, went on to further their education. Arias got her PhD from the New School in New York City in 2105 while Clifford, after earning a master's degree in economics from UNH, now works as a senior policy analyst and advisor at Federal Reserve Bank of Boston.
This year's trio will present their projects at Keene State's 16th Annual Academic Excellence Conference on Saturday, April 9.

Keene State started sending students to the conference in 2005.
Duggan's close association with conference attendees over the years has allowed KSC students the opportunity to meet and speak with the president of the association as well as a few Nobel Prize winners. "I hope the students come away with a better understanding of what economists do and learn about future options that are available to them when they graduate," said Duggan, who also presented on the topic of Keene's industrial base at the conference.
Related Stories