Meet the New Faculty: Jennifer Musial, Women's and Gender Studies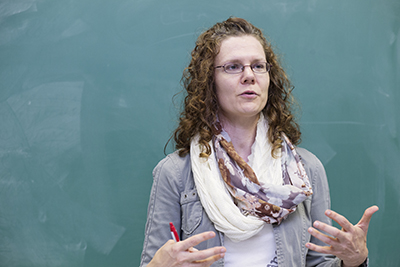 Students aren't the only ones looking to the find the right college. Professors also hope to work at an institution where they feel engaged with the department and community and also have an opportunity for research and growth.
Jennifer Musial, who joined the Keene State College as a contract lecturer in the Women's and Gender Studies Department this fall, feels she has found the right fit. "It's been a good move for me," said Musial, who is from Brampton, Ontario—a suburb of Toronto. "I really like it here and I see so much potential for growth."
Musial, who previously taught at Northern Arizona University in Flagstaff and Dickinson College in Carlisle, PA, feels her background is a good match for Keene State. "My experience teaching first-generation-to-college students makes me a good fit with the Keene State population. I kept that experience in mind in my teaching methodology, especially in how to engage classes," she said. "I'm also really invested in thinking about campus and community relationships."
Musial was destined to be a teacher. Utilizing school supplies brought home by her dad, who worked for the school board, she spent hours as a child setting up mock classrooms and she rearranged her mother's bookcase using the Dewey Decimal System. "My mother would say, 'Go and play,' but I'd rather be around books and learning materials," she said.
Fantasy soon turned into reality for Musial, who graduated from Trent University in Peterborough, Ontario, then earned a master's degree in popular culture studies at Bowling Green State University in Ohio. She returned to Canada, receiving her PhD in women's studies from Toronto's York University in 2010. While at York, she began research related to pregnancy. "Something about the power of pregnancy clicked for me and pushed me in this trajectory," said Musial.
Joining the Women's and Gender Studies Department at Northern Arizona University, Musial became interested in the plight of first-generation college students; she co-directed a faculty learning community on the subject. Moving on to Dickinson College, she was able to continue her research and apply for grants that enabled students to co-present at conferences with her. She is currently working on a book project about the media's coverage of fatal violence against pregnant women.
Excited about being at Keene State, Musial is teaching three courses this semester, including one called Feminist Practices that has a community engagement component. Musial has lined up three community partners that will work with students (Planned Parenthood, Monadnock Center for Violence Prevention, and the Monadnock Alcohol and Drug Abuse Coalition). Another student group is working with Associate Professor Jamie Landau of the Communication and Philosophy Department to write a training session on transgender issues that will be open to all KSC faculty, students, and staff. Musial is planning to teach a course on reproductive justice in the spring.
While the vast majority of her students are female, Musial says women's and gender studies courses have a broad appeal and can be paired with any major. "Women's and gender studies offers a way of thinking about power relationships that is useful for everybody, particularly those who are working with others, like clients and patients, in some type of service capacity," she said.
Reinforcing that idea, Musial recalls a conversation she once had with a Northern Arizona student who double-majored in chemistry education and women's and gender studies. "She wanted to be a science teacher who supported her students and encouraged female students to step up," said Musial. "While unexpected, I think chemistry education and women's and gender studies makes for a great pairing."
Related Stories