Health and the Cost of Living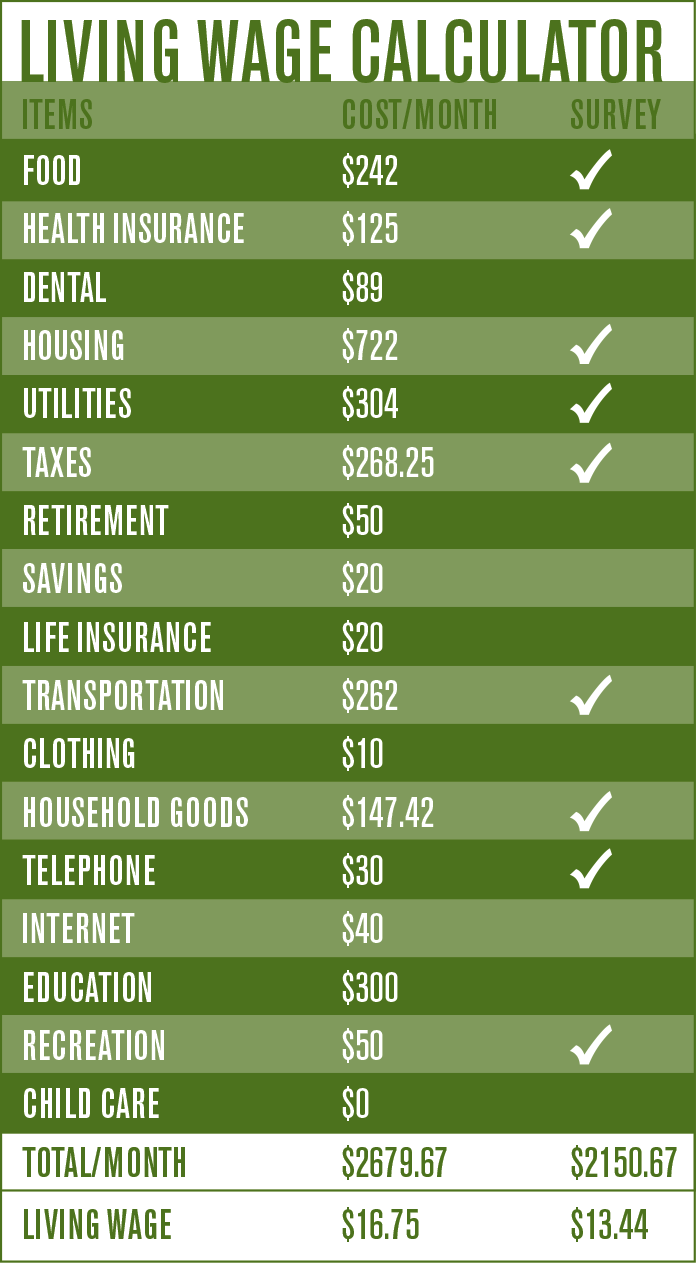 What are the socioeconomic factors that impact health? How can they be addressed on a local basis? Those issues were discussed at the Healthiest Community Summit IV, a November symposium that looked at the topic "Why Living Wages Matter to the Health of Our Community." Conducted by Healthy Monadnock 2020, an initiative aimed at promoting a healthy community, the summit provided a great opportunity for Keene State students in the Morris-August Honors Program. As part of a course, Political Economy of Inequality, Sara Myers, Jessica Schaper, and Kirsten Agla created a minimum-wage calculator and survey, which they administered at the summit. Sara and Jessica write about the project here.
We used data from the Healthy Monadnock 2020 Living Wage Summary to put together our calculator and survey, which we took to the Living Wage Summit. The on-screen calculator was based on a list of expenses a single, childless person might have, including food, health insurance, housing, transportation, and the like, and the average cost of those items in the region. People who took the survey checked the expenses that were essential for them, and the calculator totaled the costs to determine how much they'd need to earn per hour, working full time, to cover those expenses.
The calculated wages provided perspective on the relationship between minimum wage and the cost of living. Those who checked most of the expenses found they'd need to earn double the current national minimum wage to pay for them, while people who checked few found themselves near or below minimum wage. This was consistent with the polarity of political beliefs regarding minimum wage—and prompted many survey-takers to think critically about the numbers presented.
Access to health care is not the largest cause for health disparities in the US. Its underlying cause, poverty, is a much stronger contributor to community health. In addition to difficulty in affording nutritious food and capability to exercise, individuals in poverty are more likely to experience chronic stress.
This is due to little control in the workplace as well as further stressors at home, resulting in poor health among those in low socioeconomic class. Chronic stress weakens the immune system, impacts cardiovascular health, causes anxiety and depression, and decreases cognitive function, all of which result in more stress. Socioeconomic status also correlates with level of education and access to secure housing, community resources, and social support. Numerous factors are intertwined with health and socioeconomic status.
Changing the minimum wage is controversial, as the economic outcomes can only be speculated. People in favor of raising the minimum wage believe it would raise many workers out of poverty, increase spending, and boost the economy. Those opposed to raising it believe it would increase unemployment and put financial pressure on businesses. The minimum wage was instituted to create a minimum standard of living and protect the wellbeing of employees. Regardless of what the minimum wage is, it will have an impact on community health.
Related Stories