Keene State College Announces Commitment to Expand College Access at White House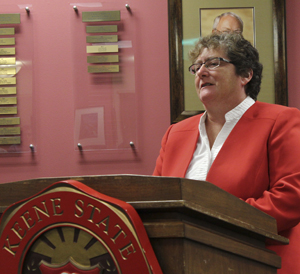 Earlier this month, Dr. Anne Huot, president of Keene State, joined President Obama, the First Lady, and Vice President Biden along with hundreds of college presidents and other higher education leaders to announce new actions to help more students prepare for and graduate from college.
The White House College Opportunity Day of Action helps to support the President's commitment to partner with colleges and universities, business leaders, and nonprofits to support students across the country to help our nation reach its goal of leading the world in college attainment.
As part of this White House effort, Keene State College has committed to increasing the number of STEM graduates by 50 percent by 2019. Keene State is implementing a state-funded program that will improve retention rates in STEM fields, called the Building Excellence in Science and Technology (B.E.S.T) Program. This program is focused on biology, chemistry, computer science, geology, mathematics, and physics; these departments also contribute to the training of a large number of science teachers in New Hampshire. The B.E.S.T Program will begin in the fall of 2015, and on-campus and community college outreach efforts and peer mentoring activities in STEM gateway courses have been initiated. Students in the fall 2015 B.E.S.T Living and Learning Community will collaborate on a research project to assess the state of science education in the state's elementary, middle, and high schools.
"As the president of a public college, one of my main charges is to make an education at Keene State College accessible to a wide variety of potential students who exhibit the drive and perseverance to earn a college-level education. More than 40 percent of Keene State's students are first in their families to attend a four-year college. Keene State offers critical services to keep these students in college through to the completion of their degrees," said Dr. Huot. "Leaders in higher education have a responsibility to continue to find new ways to support first-generation and underrepresented students, because college graduates have incredible knowledge and passion to take into the world. Making it possible for more people to earn a college education means we are improving the future of our country and our world."
The participants were asked to commit to new action in one of four areas: building networks of colleges around promoting completion, creating K-16 partnerships around college readiness, investing in high school counselors as part of the First Lady's Reach Higher initiative, and increasing the number of college graduates in the fields of science, technology, engineering, and mathematics.
President Obama announced new steps on how his Administration is helping to support these actions, including announcing $10 million to help promote college completion and a $30 million AmeriCorps program that will improve low-income students' access to college. This event is the second College Opportunity Day of Action, and includes a progress report on the commitments made at the first day of action on January 14, 2014.
Expanding opportunity for more students to enroll and succeed in college, especially low-income and underrepresented students, is vital to building a strong economy and a strong middle class. Today, only nine percent of those born in the lowest family income quartile attain a bachelor's degree by age 25, compared to 54 percent in the top quartile. In an effort to expand college access, the Obama Administration has increased Pell scholarships by $1,000 a year, created the new American Opportunity Tax Credit worth up to $10,000 over four years of college, limited student loan payments to 10 percent of income, and laid out an ambitious agenda to reduce college costs and promote innovation and competition.
Related Stories