A New Look at Gender in the Workplace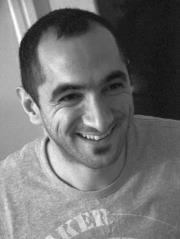 Currently residing in New Paltz, NY, with his wife, Sara Hsu, an economics professor at SUNY-New Paltz, and their young daughter Asya, Dr. Adem Elveren has a long commute to Keene State College, where he teaches economics two days a week. But that doesn't come close to the distance he traveled in 2002 when he came from his homeland in Turkey to begin studying and teaching in the United States.
Born in Urfa (also known as Şanlıurfa), a small city in southwestern Turkey next to the Syrian border, and educated at Ankara University as well as Boston University and the University of Utah, where he earned his PhD in 2008, Dr. Elveren brings a unique international and personal perspective of the economic landscape to his students at Keene State.
"Most of the students in my classes are interested in learning about the mid-eastern culture," said Elveren, who is teaching a course in intermediate micro-economics and a class entitled Game Theory this semester. "Since I'm originally from southwestern Turkey and was raised in the more Western environment of Ankara, I can provide students with a different look at the country. They are getting information about Turkey that one cannot get from studying, but from someone who has lived and experienced it – which is very important."
Elveren's interest in and fascination with the economic structure in his homeland doesn't stop there. He has spent years researching the gender dimensions of the country's social security systems and the defense and peace economics of Turkey and globally. "As someone who was born and raised in a less developed part of a country in which a huge gender gap exists in the socio-economic sphere, I was motivated to examine the causes and consequences of gender inequality," he said.
Obtaining data from the country's private pension system (information no longer available to the public), Elveren examined the inequities that have widened the economic gaps among workers. Despite having a young population, Turkey, according to Elveren, has a serious problem in its social security system since there is a large informal sector in which workers are not registered into the system. The picture is especially bleak for the women of Turkey, who are less educated, influenced by the Islamic movement, and not encouraged to work in the formal sector. Most times, women in the country are not able to find a job even if they want to work.
Elveren says he has enjoyed his research and the things he has learned. "It's a great journey," said Elveren, who shares his research in publications and at conferences. "Some people think gender is a women's issue, but it's not – it's a universal issue. It's a problem of society and not women – and that makes it more interesting for a man who studies Feminist Economics."
After earning his bachelor's degree from Ankara University, Elveren received a scholarship from the Turkish government to study in the United States. He got his master's degree from Boston University in 2004 before moving on to the University of Utah.
"Although I was familiar with American culture, coming and living in the country was totally a different experience," said Elveren. "It's not easy because of the culture shock."
While the acclimation to the country and culture was difficult, the same couldn't be said for his affinity to learn and grasp the ever-changing and dynamic world of economics. After earning his doctorate, Elveren traveled to Texas where he worked as an adjunct instructor at the University of the Incarnate Word in San Antonio and as a researcher at the University of Texas' Inequality Project in Austin. During this time, he had a chance to work with a leading scholar in income inequality studies, James K. Galbraith, the son of famed economist John K. Galbraith.
After a return to Turkey to fulfill the obligations of his scholarship, Elveren came back to the United States, accepting a position as an adjunct lecturer in Keene State's Department of Economics and Political Science in the spring of 2014. Elveren learned about the opening at KSC while attending the Eastern Economic Association Conference in New York City, which was chaired by Keene State Associate Professor Armagan Gezici.
Elveren says he enjoys engaging his students in a wide array of topics. "It's very interesting because you can bring so many examples to make the class lively," he said. "Some of the students come from very different majors and it makes the class more exciting, because they find something geared to their major."
Over the years, Elveren has attended and presented at numerous conferences and seminars around the world, as well as written and contributed to many publications. He's especially proud of a book he coedited, Gender and Society in Turkey. "It's nice to contribute to a book and have it used as the primary reading in universities around the world," he said. "It means you are doing something good and reaching people."
"Whenever I have a chance I try to use examples from Turkey and my life in class," he added. "I think that's important. It's part of my teaching philosophy. You're not just trying to convey information from a textbook, but bring real life situations and your own experiences into class. You cannot hide who you are. You have to be honest and share yourself too."
Related Stories