Political Science Major Lique-Naitove Finishing Strong For KSC Soccer Team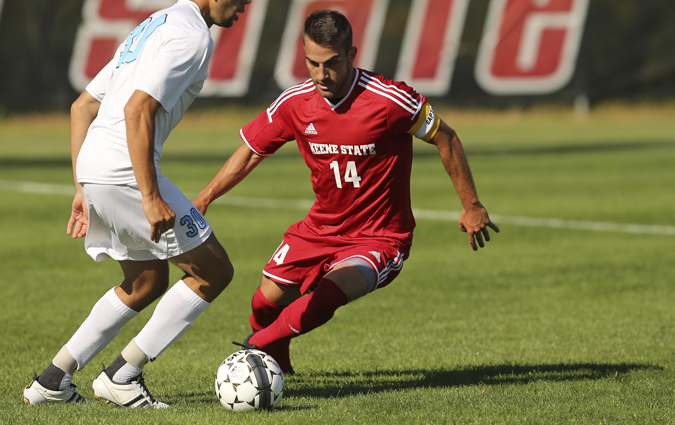 Like many wide-eyed freshmen making the transition from high school soccer star to college, Kaleb Lique-Naitove had thoughts of grandeur when he made the short cross-town trip from Keene High to Keene State four years ago. After playing three seasons for the Blackbirds, Lique-Naitove, a Keene native, was looking forward to joining the hometown Owls, a team he had followed since he was kid. "You prepare to make an immediate impact, but sometimes things don't fall into place," said Lique-Naitove.
No one said it was going to be easy, and Lique-Naitove faced his share of obstacles during his first three seasons at Keene State. Untimely injuries and inconsistent playing time, not to mention a coaching change and a life-altering health concern in his family, had the talented and quick-footed midfielder facing an uphill battle to get upfield.
But like the third-seeded Owls (11-6-1, 4-2-1 LEC), who will face second seed and defending conference champ Eastern Connecticut State (9-5-4, 4-2-1 LEC) in a Little East semifinal showdown Wednesday afternoon at Thomas Nevers Field in Willimantic, Conn., Lique-Naitove has found his footing as a senior, starting all 18 games for the Owls while contributing two goals and four assists.
One of 10 seniors on this year's team, Lique-Naitove has enjoyed the additional playing time this season. Knowing he was in the starting line-up improved his play and his confidence. "Kaleb is playing with a lot of confidence," said KSC Coach Rick Scott. "He came into the season knowing he was going to be a contributor on this team and has done a fabulous job for us."
"Now as a senior, you realize that the ego that we come in with as freshman and the frustration of not playing doesn't help," Lique-Naitove said. "You have to trust over time that your skills are going to develop and you're going to find a place on the team."
Lique-Naitove never had any problems when it came to getting playing time growing up. Under the tutelage of Coach Curt Dutilley, not to mention dedicated soccer parents, he thrived in the highly successful Cheshire United Club program, winning a couple of state championships and advancing to a 3-v-3 national tournament in Florida.
After playing as a freshman at Northfield Mount Hermon School, Lique-Naitove decided to attend Keene High, where he was reunited with several of his Cheshire United teammates. The Blackbirds, coached by current Keene State assistant Matt Schmidt, flourished in his senior season, knocking off perennial power Exeter High during the regular season before falling to the Blue Hawks in the second round of the state tournament. "We were definitely a feared team in the state – everyone knew us," said Lique-Naitove.
Named to the All-Academic and All-State teams and selected to start the prestigious Lions' Cup game as a senior, Lique-Naitove was a frequent visitor to the Keene State Owl athletic complex. "I was always there," he said. "I remember growing up and watching Caleb Patterson. I idolized him because he had my name and was small and quick like me."
Recruited to play at Keene State by former KSC Coach Ron Butcher and Scott, who made a convincing sales pitch during a Cheshire Club trip to Italy, Lique-Naitove decided to stay in his hometown and play for the Owls. "I wanted a chance to try to get to the NCAAs and knew KSC could help me get there," he said.
After a promising start, Lique-Naitove's freshman season ended prematurely when he suffered an ankle injury. Things went from bad to worse that spring, when he got the news that his mother, Tamara, who had been working in the school's Athletic Department, had been diagnosed with breast cancer. Lique-Naitove said the news caught him off guard. "I had to mature more quickly than I anticipated," he said. "Since my freshman spring semester, I've taken things a lot more seriously."
One of those things was his studies. A political science major, Lique-Naitove began to excel in the classroom, being named to the dean's list and earning a spot on the LEC All-Academic team. Lique-Naitove got a chance to reflect on his growth and development as a person, taking an Honors course entitled Encountering Adulthood – a senior seminar project in which students, who took a first-year class together and reconvened three years later, undertook an intensive study of their personal, academic, and social identity development up to their college years and then during their time at Keene State.
"Kaleb is a bright, thoughtful, and openhearted student and person," said Professor Len Fleischer, who taught the course. "He has succeeded because of his emotional intelligence in the face of challenges. He has developed into an authentic young adult, with great promise to do important work in the world."
Lique-Naitove got a head start seeing the world this past summer, visiting two different and contrasting countries during school-related trips to Nepal and Paris. "The whole experience changed my ways of thinking," he said.
Returning to Keene late in July, Lique-Naitove prepared in earnest for his final soccer season at Keene State. Taking a leadership role with the team, Lique-Naitove is bullish on the Owls' chances to win the conference championship. "I think we're the best team in the LEC, and I think we're waiting to prove that," he said. "We haven't won a championship in quite some time, so we're chomping at the bit to do that."
Kaleb also got good news off the field with the improving health of his mother.
"I'm glad Kaleb is having a good senior year. He deserves a year like this," said Scott. "He and the rest of the seniors deserve to go out with a memorable season. And the frosting on the cake would be winning the LEC and going to the NCAAs, which we are very capable of doing."
Related Stories