Stemp Excavating Archeological Research and Scholarship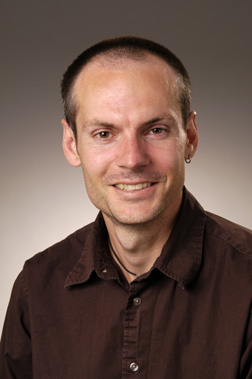 It was a long way from his Canadian hometown of North Bay, Ontario, to the hot and humid tropical jungle of Belize in Central America, but W. James Stemp, then a second-year archeology student at the University of Toronto, didn't mind the trip or the decidedly different climate and terrain.
Although he had done field research back in Ontario, there was something about working in the Maya archeological sites in Belize that would have a lasting impression on Stemp. "Like most people I didn't have an exact idea how archeology worked," said Stemp. "It was like an adventure. I was going to a different place and I was going to find great stuff. But the reality is a lot of times you're not finding great stuff."
Encouraged instead of discouraged by the long and painstaking work, Stemp dug right in, not only excavating the splendor and mystique of the Maya civilization (creative but warlike people who thrived in the area from AD 250-900), but also clearing a career path that eventually landed him at Keene State College.
Stemp became infatuated not only with the artifacts he found, but also the role they played in reconstructing the history of the civilization. "You're finding pieces of a puzzle, but you don't' know what the puzzle is supposed to look like," he said. "As you put the pieces together you get a better sense of what's happening, but you never get the full picture."
Interested in history, Stemp discovered archeology by a series of events growing up. Movies like Indiana Jones and The Clash of Titans, not to mention a trip to the museum to see a King Tut exhibit and later finding a couple of skulls while exploring his basement, led Stemp to a new passion.
After earning his BA in anthropology with an archaeology specialization from Toronto University and, later, his MSt in prehistoric archaeology from Oxford University and his PhD in anthropology from McGill University, Stemp arrived at Keene State in 2004.
Helping to get a combined anthropology/sociology major at Keene State, Stemp has brought the fascination of past civilizations into the classroom. Stemp said teaching students an all-encompassing subject in which humanities, social sciences, and natural sciences are forced to confront one another isn't a hard sell. "Sometimes it's so interesting on its own. You can bring up things that seem they are way out there and when you get into that territory students seem to be really interested," he said.
As with many of the social sciences, Stemp is quick to point out, few students take anthropology with the idea that they will go into that field. However, the particular skill set and knowledge obtained can certainly be adaptable to other areas.
Over the years, Stemp, whose main areas of research include the socioeconomics of complex societies, design theory, lithic and lithic use-wear analysis, stone tool replication, and the Maya,has participated in countless digs. He even had an Indiana Jones moment when a friend cut open a pregnant scorpion, splattering her belly-full of babies over everyone. "There was a lot of screaming and crying," he said about the unexpected experience.
Although he's never led a dig from Keene State due to the financial costs, Stemp, who serves as the Director of the Surface Metrology and Archaeological Research Technologies [SMART] Project at the College, has arranged for students to go to Central America and to work locally in the New Hampshire State Conservation and Rescue Archaeology Program (SCRAP).
However, the digs are only one small piece of the puzzle. The long and meticulous work parallels the time-consuming effort needed in research. Stemp, who has published 17 peer-reviewed articles in international journals, has reached out to students of all levels, encouraging them to find the time to explore and investigate. "Research is at the core of our lives. When you're doing research you're adding to this giant pool of knowledge," said Stemp, who has contributed to the growth of undergraduate research at Keene State. "One of the responsibilities for college and university professors and teachers is that they have to contribute to that pool. If nobody did that, we'd have nothing to teach."
Highly appreciative of the professors, colleagues, and friends who've helped him, Stemp acknowledged his mentors while receiving the 2014 Faculty Distinction in Research and Scholarship Award at Keene State's recent Faculty Appreciation Dinner. "As an undergraduate student and a graduate student I met a number of professors and others who provided me with opportunities to participate in research and allowed me to better understand methods of excavation and artifact analysis through hands-on learning and mentorship," he told the crowd. "I recognize that their efforts on my behalf played a significant role in terms of my career path and my choices about my work and research. I think it is the responsibility of our professors to offer opportunities similar to those I was given to KSC students."
Stemp is committed to passing on his knowledge to the next generation of students. "I'm the product of basically everyone else that came before me," he added. "Someone already carried the ball 80 yards down the field and I picked it up at some point. In theory, I'm that middle man – so maybe I carry the ball another year then someone else picks it up."
Related Stories