MVP's "Yes Means Yes: A Guide to Good Sex" Wins Best Program Award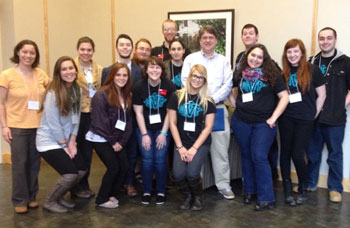 At the beginning of the past two school years, KSC's Mentors in Violence Prevention (MVP) peer education group has presented its "Yes Means Yes: A Guide to Good Sex" program as part of during New Student Orientation. "This optional program has been very popular with first-year students," explained Staff Counselor and MVP co-advisor Forrest Seymour, "attracting 300–400 each time it's been offered, and promoting positive sexuality messages of respect, mutual consent, and safe sex.
On March 29, the "Yes Means Yes: A Guide to Good Sex" program received the "Best Program" award at the northern New England BACCHUS Network Conference held at Endicott College in Beverly, MA. BACCHUS, which gave the award, is the national college peer education organization. Seymour accompanied several MVP students to Endicott to attend the regional conference, as did Coordinator of Wellness Education Tiffany Mathews and four KSC Champions peer educators.
The award-winning Mentors in Violence Prevention program is celebrating it's 10th anniversary at Keene State College, and April is Sexual Assault Awareness Month at KSC. As part of SAAM, MVP along with other student groups and community partners is sponsoring various events, including the Shout Out Against Sexual Assault, the Clothesline Project, Take Back the Night, and the month's capstone event, Walk a Mile in Her Shoes: the Men's March to End Rape, Gender Violence, and Sexual Assault on April 19th.
Related Stories