Hersh Rothmel Wins Fred Fosher and Robin Dizard Awards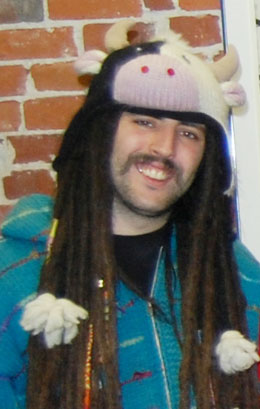 Honors student, junior, and American Studies and and Women and Gender Studies major Hersh Rothmel recently won the Fred Fosher Excellence in Writing Award and the Robin Dizard American Studies Award. The Fred Fosher Award recognizes the critical role that writing plays across the curriculum, and the inspired work of students who rise to the formidable intellectual challenge of writing clear, purposeful, and persuasive prose. The Robin Dizard Award recognizes an outstanding American Studies major.
To earn the Fred Fosher Award, Rothmel submitted a cover letter explaining his growth as a writer at Keene, a letter of recommendation from a faculty member, and three pieces of writing totaling 20 pages. "I don't really know why I won, but I think it is because I've embraced interdisciplinary thinking and responded to my professors' encouragement to rethink my own assumptions. I also think the combination of my American Studies and Women and Gender Studies majors have opened me to a lot of radical paradigms, discourses, and authors that have enabled me to deconstruct and delve deeply into anything that I am researching. Reading and writing so much has given depth to my vocabulary, and has given me the language to express myself eloquently."
The American Studies faculty voted unanimously to give Rothmel the Robin Dizard award. "I think that the American Studies program at Keene State is amazing and has really helped me find myself as a scholar," Rothmel explained. "I have grown as a writer and thinker throughout my two years in the American Studies program, and the support from the faculty has played an integral part in my development… These awards are starting points for even deeper research in my future."
Related Stories