Communication Students Develop Marketing Campaigns for Local Non-Profits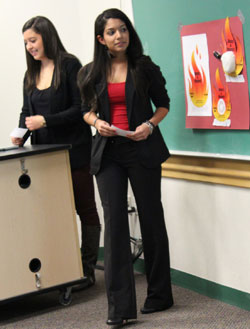 The 24 students in Assistant Professor of Communication Jamie Landau's Health Communication and Public Culture class last semester not only got some valuable real-world experience in creating an ad campaign, they also learned some important lessons in public health and advocacy, and in forging partnerships with community organizations. And they were able to present fresh and valuable marketing ideas to local organizations that can't afford to hire professional marketers.
Becca Berkey, Coordinator of Experiential Education in KSC's Center for Engagement, Learning, and Teaching, helped Dr. Landau identify three people in area organizations who needed some marketing help: Kate McNally, program coordinator for the Cheshire Coalition for Tobacco Free Communities; Tiffany Mathews, coordinator of Wellness Education at KSC's Center for Health and Wellness; and Kimberley Diemond, the founder of Joy's Network, a support group for cancer patients and their families.
Dr. Landau broke her class into six groups of three to four students and had them create marketing campaigns for these local clients. Three of those groups worked on presentations to curb smoking and make students aware of current campus tobacco policy and resources, and three promoted awareness of and fundraising ideas for Joy's Network. In mid-December, the clients gathered in Rhodes Hall to hear the teams present their ideas.
"I wanted to serve the needs of the community partners, as well as let the students develop their own ideas," Dr. Landau explained. "While I had general guidelines, I didn't prescribe these projects for my students. I wanted the partners to tell me what they needed, and then have the students present their ideas to the partners."
The community partners came away from the presentations with a wealth of fresh ideas and important creative perspective. "Working with college students on service-learning projects is essentially the only way a volunteer organization like Joy's Network has access to this kind of input and creativity," said Kimberley Diemond. "We don't have an advertising or marketing budget, and the input the students provided is invaluable to us. On the flip side, how great is it that a student can work hard on a project, gain class credit, and also potentially see their work implemented throughout the community for the benefit of others? It's a win-win all around!"
"I see great value in working with students on this issue as part of a service-learning experience. I have gathered great feedback and input, while educating these student leaders on a very important issue," Tiffany Mathews said. "These students also represent the campus community and are likely to gather ideas from their peers when an issue arises. I believe that including so many students through this project has already helped us raise more awareness on campus."
And the assignment was a valuable learning exercise for the students—not only in real-world experience, but in public health, too. "One of the main benefits of doing this service-learning project is that it put a big reality stamp on everything we were doing—it wasn't hypothetical," said Michael Brunetti, a student on a team that presented to Joy's Network. "It was to help us learn and understand, but it was bigger than that. It was to apply what we'd learned in our field of communication and apply it to something that's real, that has lasting implications for real people who are going through real things. We knew we were doing something proactive and beneficial, and helping people who were actually in need. Even if our presentation doesn't get chosen, we know that we at least took an active part in improving the lives of the people involved in Joy's Network and the Tobacco Coalition. I learned how important health communication is, and that it's our job to help bridge the gap between the people who make the diagnosis and getting the information to the public."