A Liberal Arts Education: One Father's Experience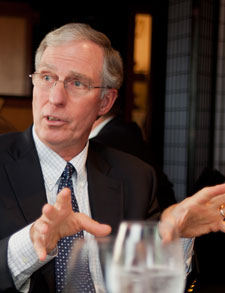 Dr. Gordon Leversee - Dean of Science and Social Sciences
"An education with options." That's how one of our current students described his/her liberal arts education at Keene State last year. I understand that parents are anxious - I'm a parent, too. We want to know now that our kids are on track for a happy and secure life, a good job (Oh, those loans!), a good partner, life in a nice community. Two years ago, parents of students finishing degrees in finance, or MBAs in investment banking, were feeling great. Then the life those students were preparing for went away. Lots of families are still in shock. That life, those opportunities, may come back again, but what are their options now? What, of all the things they learned and did in school, and never knew would be important, may now turn out to open the door to the best option they have, and ultimately maybe a better and happier option than the one they prepared for?
My youngest daughter is a sophomore in college this year (of course she had to "go away" to college) and we talk a lot about how she is doing academically (great), socially (very good), what classes she likes and what ones not - and why, and where this all leads (not much of an idea yet. I try not to panic.) She has played soccer since she was six, and was a varsity starter as a freshman, but she decided not to play soccer this fall because it had lost its spark for her. It also left her no time to volunteer in a local school, attend interesting campus events, take tango classes off campus, and other things that nurture her spirit. She isn't doing these things to preparefor a particular job, but they are important in the life she wants to lead. Who knows which of the networks of people she meets doing these things may lead to some opened career door, some lasting relationship, some community connection? She may come back to soccer, but life moves on.
She assumes that ultimately she should be responsible for herself, and so she goes to non-credit classes sponsored by student affairs on managing personal finances. She reads the fine print on her bank statements and asks me questions I can't answer. I like it.
She liked two psychology classes freshman year, but decided, based on the class she is taking now, that she does not like psych enough to major in it. This is progress; I try to say positive things without sounding sucky. She is taking junior level Spanish courses and will study in Spain next year. Will Europe become her ultimate home? Her friend took a gap year in Italy and came home with a husband! I don't like these thoughts, but it is her life. She will probably finish the Spanish major because she got a good running start on it out of high school, and finds it relatively enjoyable and easy. But, she's decided, it's not challenging enough. She is thinking of double majoring, possibly doing history or comparative literature as her second major.
She talks about her experience volunteering in a local school last year, tutoring a fourth grade girl who scored 50 percent or worse on spelling tests and really had trouble with vowels. By the end of the year, her pupil was scoring 90-100 percent. They watched video clips of My Fair Lady ("The rain in Spain….") and read bits of Macbeth ("Double, double toil and trouble…") and the girl couldn't get enough of it.
My daughter thought of this?
My daughter would be a great teacher, and she thinks about that, and what she would need to do after graduation to get there (her four years are too full for teacher ed courses). I agree but try not to preach. The homeroom teacher has offered to write a letter of reference, whether or not it is for a teaching position. This is good, and I encourage her to follow up and get a general letter for her file.
I try not to nag. But she also has a friend working as a paralegal in an immigration law office, and is looking into an unpaid internship there. Law could build on skills she learns in studying history, and speaking Spanish seems to me like a plus for an immigration lawyer. She is in the midst of an education with options.
No surprise: She is attending a liberal arts college.
This is what we are offering students at Keene State College. It is good to find a path sooner rather than later, but following a path that does not make you happy, and offers only an illusion of security, may not be the best. Students who are not happy tend to drop out. Our integrative studies program, the core liberal learning experience for all students, is attracting national attention. We see that students are developing stronger skills in writing, are more challenged and more confident in their ability to meet new challenges, and are getting a better sense of what is happening in the world around them. When students add to that experience a major field of study, elective courses, and experiences which include athletics, internships, study abroad, clubs and organizations, varied residential opportunities, individualized undergraduate research or creative opportunities - they create an education with options. Our faculty and staff are here because they like working with students finding a path, so you are not alone in this.
Everyone is anxious in these uncertain times. Let's try to be calm. Let's be there for important conversations with our sons and daughters and remember that they are living lives right now, in all kinds of important ways. And let's let them try out some things, explore an education with options.
But I am going to have to talk to my daughter about these European husbands.
Related Stories