What Studying at Keene State College Means for You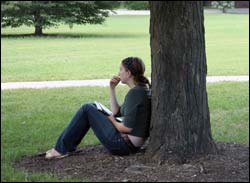 Throughout your career at Keene State College, you will be required to think critically, to communicate ideas with an open mind, and to apply your learning to real-life situations. When you graduate, you will have the experience, knowledge, and confidence to make decisions about what you want to do next in your life.
At the undergraduate level, you can choose from four bachelor's degrees, two associate's degrees, and nearly 40 majors. If you plan to continue your studies, the College also offers a master's of education degree and two post- master's education certification programs. Majors are divided among the School of Arts and Humanities, the School of Professional and Graduate Studies, and the School of Sciences and Social Sciences.
Most important, you will have the chance to work with faculty members who enjoy involving students in hands-on learning. Keene State has a well- established ability to involve undergraduate students in research projects and service learning. And with a 17:1 student-to-faculty ratio and extensive academic and career advising programs, no student gets lost in the crowd.
Related Stories