Event Scheduling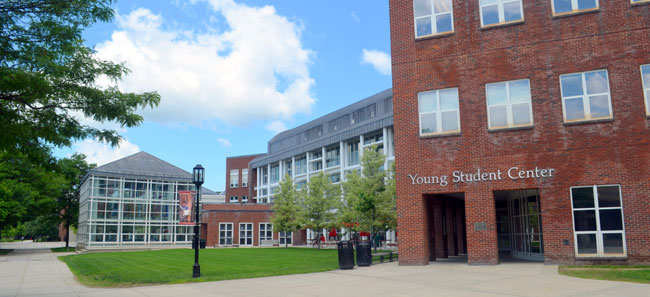 The Event Scheduling Office is responsible for overseeing space scheduling and event logistics at Keene State College. With a strong emphasis on providing quality service, the Event Scheduling Office offers guidance in event scheduling and planning and works with the campus facilities and service providers to help ensure a successful event.
---
Quick steps to creating an event scheduling request in 25Live:
Click the link below to enter 25Live.

Click "Sign In" on the top right of the page.

Enter your Username and Password (your KSC NetID).

Click "Create an Event". This will open 25live's built-in scheduling request form.

Fill out the form and click "Finish".
PLEASE NOTE: The 25Live link below will open in the browser that is currently set as the "Default Browser" for your computer. Mozilla Firefox is the recommended browser for 25Live. Do not use Internet Explorer. The tablet version of Safari is not currently compatible with 25Live - Google Chrome is recommended for iPad users. 25Live has limited functionality on smartphones.
---
KSC Staff, Faculty and Students can now make event requests via 25Live. This section contains information on the use of 25Live, including basic user guides. More about 25Live
---
Event Scheduling Procedures
In an effort to optimize the efficiency of College facilities, offer quality service, and make the use of College space as functional as possible, the following procedures have been developed. More about Event Scheduling Procedures
---
Event Services
Media Services
A/V services for Student Center spaces can be made via the initial 25Live request. Changes or additional services can be requested via e-mail. All requests require at least 3 business days notice.
A/V services for the rest of campus can be requested by filling out the Online Media Services Form. 48 hours' notice is required for all media requests. For more information please visit the HelpDesk Website
Catering
Requests for catering can be directed to KSC Catering: Catering, 603-358-2677. 10 day notice is requested for all catering requests.
Grounds
Work requests can be made by designated staff and faculty via the Maintenance Connection Work Request Form.
Parking
Requests for parking whether for 1 or 100 people are to be made through our online parking form. Once this form is received, a representative from the parking office will email you before your event with printable permits and/or instructions on how to park for the event.
Campus Safety
Dial 9-1-1 in an emergency. Campus Safety Website, 603-358-2228
---
The College Camp on Wilson Pond is an excellent place for student meetings, alumni events, and business retreats. The lodge is equipped with comfortable furniture, an electric fireplace, conference tables, a complete kitchen, wireless internet and a projection screen… More about The College Camp on Wilson Pond
---
Contact the Event Scheduling Office
Event Scheduling Office
603-358-2323