A House with History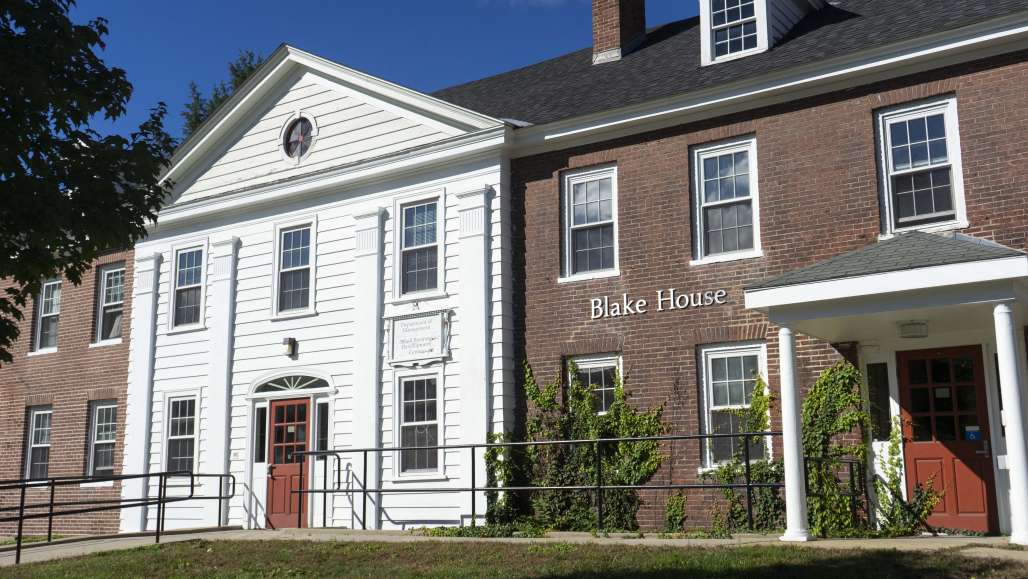 You know Blake House, that Keene State building that sits on the northwest corner of Main and Winchester streets? The one that currently houses the Management Department and once housed the Home Ec Department? It's got a long and storied history, one that goes back to colonial days in Keene and features an eighteenth-century raid by Algonkians.
Nathan Blake, one of Keene's first settlers, built the first-ever log cabin in town in the summer of 1736, on the site of the current Blake House. However, his domestic life was cut short when Algonkians raided the town in the spring of 1746 and set fires to homes and other structures. While townspeople town took refuge in a fort (located on Main Street across from what's now Elliot Hall), Blake ran to let his cows out of his barn so they could escape flames. The cows got away but Blake didn't. Members of the tribe burned his house to the ground and kidnapped him, taking him with them to their village in northern Quebec. Blake impressed the tribe with his running skills, and when their chief died, they named him the new chief, even giving him the deceased chief's wife. After living in the village for some time, Blake decided he wanted to go back to his old life and his family. To leave the village, however, he agreed to build an English-style home for the Algonkians. He did so, and was handed over to French authorities in Quebec.
The Quebec authorities held onto him for a while, however. His wife back in Keene, Elizabeth Graves, sent ransom money, and he was finally released in a prisoner exchange in 1748 – two years after he was captured.
The building that now serves as Blake House was built in 1836 by Nathan Blake's son Abel. It was home to six generations of Blakes until the college bought it from Milton Blake in 1926 to house Home Ec.
Today, the Blake House is used by the Management Department and also houses the Small Business Development Center. A refurbished memorial along the Main Street side tells the story of Nathan, who outlived his wife Elizabeth, remarried at 94, and lived to a ripe old 99. His story was fictionalized in a novel by Ernest Hebert '69, The Old American.
– Rachel Vitello '20