A Round House, South Duxbury, Vermont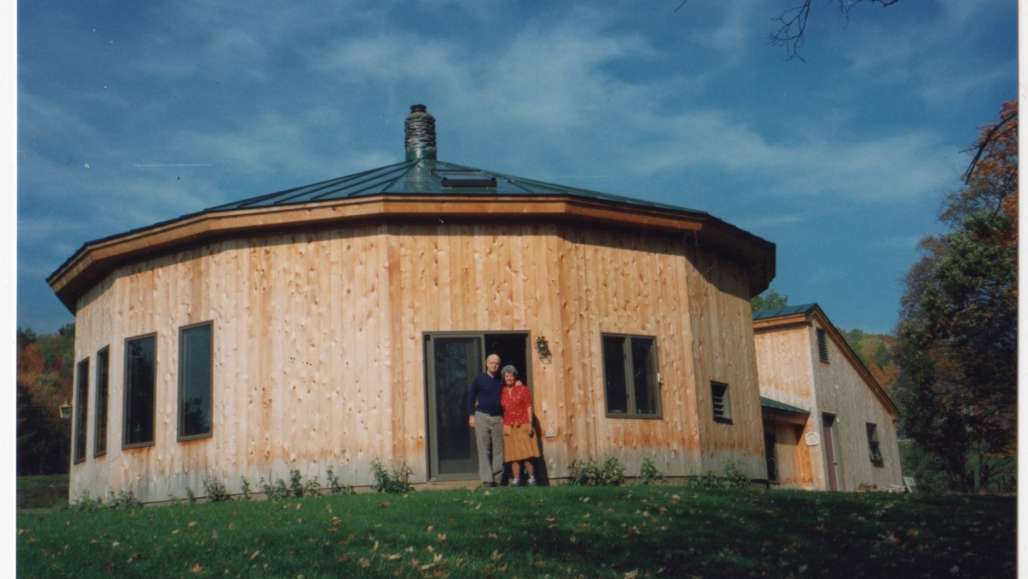 By Carol Johnson Collins '69
My father, Bob Johnson, had a serious stroke in 1990, at age 77, followed by a difficult, but successful recovery. At age 80 he fell on a Boston sidewalk, so I made a trip to visit him and my mother, Wanda, so I could sense their situation. Immediately I knew that they were not OK on their own. I needed to bring them near us so we could give them more support. That is when we talked with them about housing.
After 20 years of farming in southern Vermont, they'd bought a used bookstore in Harvard Square, Cambridge, Massachusetts, called "The Book Case." My father ran that successfully for 28 years, with help from my brother, sister-in-law, and my mom, who also taught French in regional schools. The lease for their building, owned by Harvard University, was not renewable. My 80-year-old father was ready to retire, but my mother wasn't. I encouraged them to move near us. Eventually they agreed it would be too difficult to relocate the store and approximately 30,000 books! They bought into our plan!
Having designed and built our own home in 1971-72 in South Duxbury, Vermont, we had the skills to design/build another. Playfully, my husband Fred (Keene State Class of '69) suggested a round house! I liked the idea, because when we were designing our own home, we'd considered a round house, even a silo-home. My husband liked the challenge! My parents were excited to have their home designed and built especially for them, by us.
All their needs would be met on the first floor with an attached garage. There would be a second story for a guest room, bath, and storage. Fred spent many long hours reading books, studying plans for round houses, and doing sketches before he began the formal drafting process. My parents came up every weekend to see Fred's latest drawings and discuss options, and my dad helped!
In the same period, I found land that had become available right across the road from us. I was beyond excited! My parents bought that land, including a house for my brother and sister-in-law. We hired a surveyor to divide the lot, an excavator to dig the cellar hole, and a crew to frame and pour the concrete pad. Fred was the primary builder. He hired former students to work with him on the frame. I cut hundreds of ceiling boards using our radial arm saw and polyurethaned closet shelves. Daughter Eliza straddled the peak. Working with the crane, she guided each beam into its proper position. Son Seth helped me pick up many pieces of foam from the roof job.
We moved my parents into The Round House in February of 1994. My dad loved every minute of the 18 months he was able to live there. He died November 5, 1995. My mother, Wanda Meriems Johnson (Keene State Class of 1964) is nearly 104, and with lots of help from us, lives there still!