Healing The Spirit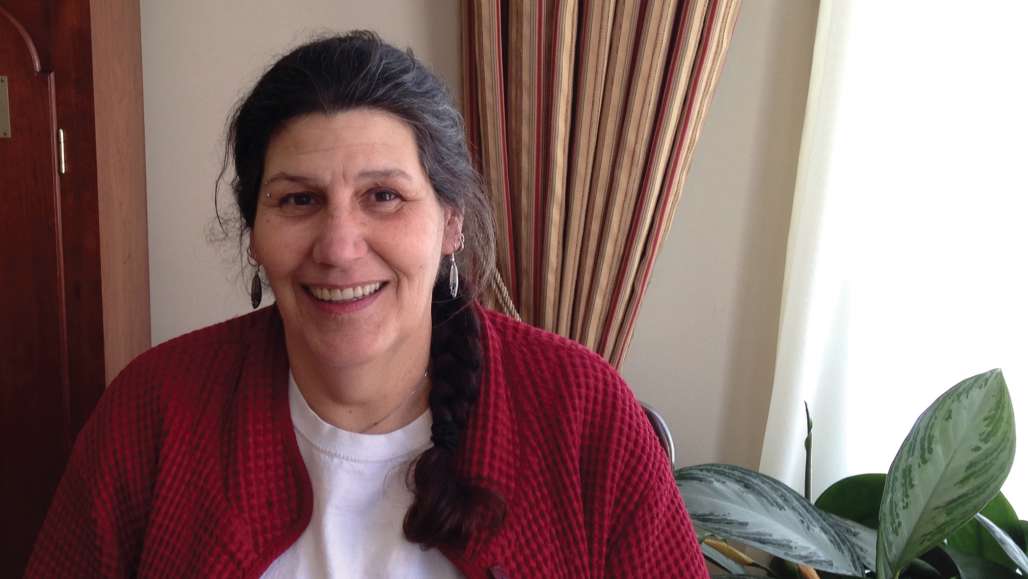 Christine Holland made a special talking piece for the healing circle she co-facilitates at the Cheshire County Jail. A wild turkey feather embellished with beads, its quill bound in leather, the talking piece gives the person who holds it the right to speak without interruptions. "I felt we needed something that felt sacred and grounded in the natural world," says Holland, a nontraditional Keene State student who has been leading inmate groups at the jail all year as a practicum for her psychology major.
As they discussed the talking piece, Holland said to the women in the group, "Remember, as you take this talking feather from the person beside you, that the one who's passing it to you is also passing a piece of herself. As you will to the person you pass it on to. Thereby, we're all connected."
Holland, who has Blackfoot heritage, structured the group on the traditional Native American healing circle. "I think that my role at the jail is to help in healing the spirit, a person's spirit. That's what I want to do. I want to help the spirit heal," she says.
"People need to be viewed with empathy and humanity," adds Holland. "They have to have their humanity given back to them. We're incarcerating a population that has a disease—addiction. Incarceration in itself is traumatizing."
Holland knows that first hand. She has a history of substance abuse that goes back to her teenage years and that escalated after she was prescribed OxyContin following back surgery. "I ended up a heroin addict," she says, "and because it's all about doing anything and everything to acquire your drug, I ended up in jail." Four months at the Cheshire County Jail gave her time to get the drugs out of her system and to start thinking clearly—and making some decisions about her life. What she decided was to go back to school.
"I was released on June 28, 2011," she says, "and I started at River Valley Community College that September." A year later, she transferred to Keene State, where she has learned much about psychology, about addictions—the focus of her health science minor—and also about herself.
Begin pull-quote…

That's about helping people find their own humanity. Once you have your own humanity, it's easy to look at others with humanity.

…end pull-quote
"The degree?" she says. "That's just a bonus. I've learned so much here about me. Just so much self discovery as far as some of the choices I've made and how they occurred." Her goal, after she graduates in December, is to take what she's learned and help others – specifically, inmates – to make changes in their lives as well.
One of the groups she facilitated this year at the county jail focused on restorative practices. "That's about helping people find their own humanity," she says. "Once you have your own humanity, it's easy to look at others with humanity."
That sense of finding one's humanity permeates the other groups, too. In the healing circle group, in which inmates share their experiences and emotions, Holland works to build trust. "They have to trust that I'm not going to pass judgment. That's not my job. Who am I to pass judgment? I'm trying to help these women and men heal."
And, given her own past, she's also showing the inmates a new path. "It's good for them to see somebody get out, make changes, and then try to give back," Holland says. "That's huge."