Mind & Body Balancing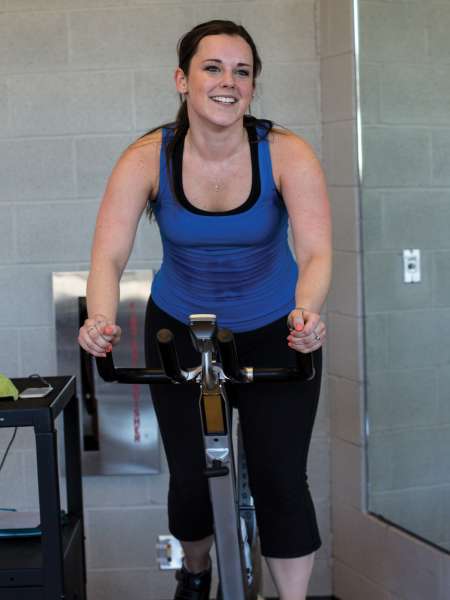 By Stephanie Krasco '15
"I like the study of the brain," says Emma Laramie '13. She's also interested in the body. Laramie has followed both paths in her life and in her career. After majoring in psychology and simultaneously becoming certified to teach group fitness classes at Keene State, she now works for Monadnock Family Services, a community-based mental health services agency, and sidelines as a fitness instructor.
As a student, Laramie interned at The Samaritans, a crisis hotline, which cemented her desire to work in the mental health field. After doing extensive research, she discovered her two greatest passions, fitness and counseling, go hand in hand. "You can't really have one without the other," says Laramie. "You can't treat your mind without treating your body, or vice versa."
Her passion for fitness blossomed when she first decided to participate in a group cycling class at Keene State her first year. She developed close friends within the group classes, becoming a regular participant and then an instructor at the Bodyworks fitness center in Spaulding Gymnasium. "Group classes were the kick-start to where I am right now," she says. "If I hadn't started working there, I don't think I'd be where I am today."
She continues to lead fitness classes at Bodyworks and also at the Keene Family YMCA, where her classes have included those for people with neurological conditions like Parkinson's disease and cerebral palsy.
At Monadnock Family Services, Laramie is a health mentor and personal trainer with clients of all different backgrounds, ages, and fitness levels. "The best way to alleviate any type of symptoms is to exercise. It helps people connect with their body," says Laramie, who stresses that even a brisk walk can benefit not just the body but the mind as well.
In the future, she hopes to go back to school to pursue a degree in occupational therapy, which she calls a perfect combination of mental and physical health. "It's a balance," she says. "Life is always a balance."