I'm proudest of my service in Iraq, graduating from Keene State, and becoming a Second Lieutenant in the US Army."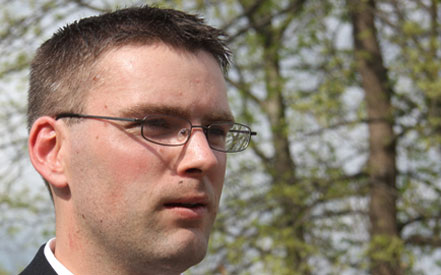 Veteran Students at Keene State College
Welcome from Bert Poirier
My name is Bert Poirier and I'm the coordinator for veteran students, and their dependents or survivors. Keene State College is committed to ensuring that you have the information and support you need to be successful. We'll help you with everything from exploring your options to developing your academic and career plan. I'm here to help answer your initial questions and to connect you with information about VA benefits and other college resources that will give you a strong start.
Get started today
Keene State values our veterans – for what you have done and for what you can contribute – and offers the following resources to help make your experience at Keene State one that exceeds your expectations. We are eager to help with the transition to college life, show you how to get involved with the college community, and make sure you have access to all programs and activities. We know your experience and your goals may be different than an 18-year-old's, so we offer one-to-one advising and an expanded series of resources to ensure that your educational experience with us takes you wherever you want to go.
We can help you:
Clarify your life and career goals
Develop an educational plan that meets your objectives
Identify the educational resources available to you
Evaluate any previous educational credits
---
What defines a veteran student at Keene State College?
After tours in Iraq and Afghanistan, US Marine Corps veteran J.P. Dustin enrolled as a biology major at Keene State, and is now doing undergraduate research into possible causes of skin cancer.
Our definition of "veteran student" includes those with previous or active military experience, dependents, and survivors.
---
What steps do I need to complete to become a veteran student?
"It is a good thing to come back, no matter what your age. Older people have so much to offer. When I go to class I am accepted."
Sean Sullivan, Safety Studies.
To begin the process, you will need to formally apply to Keene State College and you'll need to explore your benefit options with the Department of Veterans Affairs. Make an appointment with the KSC veteran's coordinator, Bert Poirier, to learn about the KSC application process. Call or email the Admissions office to arrange this appointment: admissions@keene.edu, 603-358-2276.
Once you've been admitted you'll need to contact Jen Drake-Deese (603-358-2455), jdrakedeese@keene.edu, in Academic and Career Advising (ACA) on the first floor of Elliot Hall. You can speak with Jen concerning advising, registration, orientation, and tutorial services. When you declare a major, you will be assigned to a faculty advisor. If you want to explore your academic direction, feel free to contact a department chair in an area of your interest.
---
Checklist for Veterans Education Benefits
Tips For College Veterans
Tips courtesy of the National Association of Veterans' Programs Administrator (NAVPA) These are their best suggestions for returning veterans thinking about going to college, as reported to U.S. News and World Report.
Download PDF
Admissions process:
Financial Aid process:
File your FAFSA at www.fafsa.ed.gov, before our March 1 filing deadline. The FAFSA serves as the application for all federal and institutional aid at Keene State College. The school code number is 002590, which you will need when filing the FAFSA.
If selected for verification, you will be notified of required documentation. Make sure that you submit documents in a timely manner in order to complete your financial aid process.
Please visit the Financial Aid Website for more information about Financial Aid deadlines and the application process.
Veterans Educational Benefits: File the application for veterans educational benefits at www.gibill.va.gov. You will need to launch VONAPP and apply for benefits. For an explanation on how to receive educational benefits go to http://www.keene.edu/registrar/veterans-services-information/. This is an excerpt from the "Road Map to Success." This "Road Map" will help you determine what benefit is best for you and how to apply for it! Many veterans and active duty personnel can qualify for more than one education benefits program, including:
Post-9/11 GI Bill (chapter 33)
Montgomery GI Bill (MGIB, chapter 30 and chapter 1606)
Reserve Educational Assistance Program (REAP, chapter 1607)
Post Vietnam Era Veterans' Educational Assistance Program (VEAP, chapter 32).
Waiver of Residency Requirement for In-State Tuition for Veterans.
A veteran of the armed services who establishes a residency in New Hampshire shall immediately after establishing such residence be eligible for in-state tuition rates when attending Keene State College. Please contact the Veterans Coordinator in the Admissions Office if you believe this waiver applies to you.
---
Can I receive credit for prior learning?
It is possible to earn credits for learning that takes place at work and through certain life experiences through documentation of acquired knowledge and or/skills. Veterans and older students may have had jobs or responsibilities that taught skills and competencies that might be considered as the equivalent of what you could learn in a class and are therefore eligible for college credits. Credits may not duplicate successful course work or testing already completed by the learner. The decision to award credits is made by the chair of the department associated with the credits being sought. This department chair reviews the completed portfolio and recommends to the Registrar the number of credits to be awarded in the assessed areas. A $50 per credit fee is charged per credit attempted. Credits earned by portfolio assessment may be applied toward General Education requirements or open electives, or may replace major requirements if approved by the faculty of the major discipline through the course substitution process.
---
In addition to our veteran's coordinator, Keene State College also offers a Veteran's Support Services group. Its goal is to implement and coordinate academic and social support programs that enable KSC veteran students to gain the greatest benefit from their educational experience. In all pursuits, Veterans Student Support Services (VSS) strives to:
Enhance students' opportunities for active involvement in the college and the Keene community.
Support individual and student group initiatives that address military to civilian transition issues.
Assure that student veterans have equal access to all academic, social, and recreational programs, groups and activities.
Promote and incorporate into every aspect of campus life an appreciation for veteran's issues.
For more information visit Veterans Support Services.
---
---