Cohen Center for Holocaust and Genocide Studies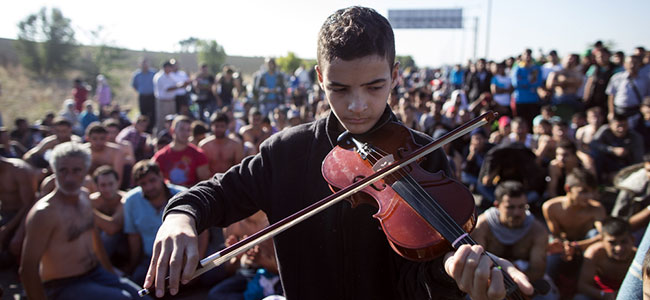 Syrian boy plays the violin at refugee encampment, Edirne, Turkey, September 2015
Open letter by Concerning Recent Events in Charlottesville, VA
Proudly working with The Center for Peacebuilding CIM which seeks to rebuild trust and foster reconciliation among the people of Bosnia—Croats, Serbs, Bosniaks, and others—as well as support peace processes in other countries that have suffered from violent conflict.
---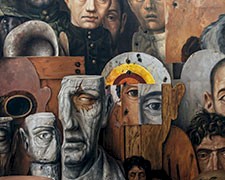 2017 Summer Institute, July 16-22
An intensive one-week residential institute that brings educators together from around the United States and Europe. Online Registration Opens January 2017.
The Cohen Center serves as a research and resource center for the teaching of the Holocaust and genocide through Keene State College's academic programs. The center also provides materials for educators at the elementary, middle school, and high school levels.
For Students
We support the College's undergraduate major and minor programs in Holocaust and Genocide Studies.
For Educators
We provide resources for teachers striving to help students learn about the Holocaust and genocide and to reflect upon the moral and ethical questions raised by those difficult realities.
Resources
An extensive list of categorized links to educational resources on a wide range of topics related to the Holocaust, genocide, and human rights.
---
Public programs sponsored by the Cohen Center strive to engage citizens and civic leaders throughout the region in understanding and promoting human dignity around the world as well as in our local communities. More about Public Outreach
---
Each year the Cohen Center sponsors a series of annual events for the public. More about Annual Events
Holocaust Memorial Lecture
This annual trip engages KSC students with a tour of the permanent exhibit of the United States Holocaust Memorial Museum.
Holocaust Memorial Lecture
Held in the Fall, the annual Holocaust Memorial Lecture draws prominent scholars, organizers, survivors and family members, and community leaders for an evening of historical perspective and current events.
Kristallnacht Remembrance
This annual event seeks to bring the community together to bear witness and recognize our responsibility to promote an active and informed citizenry, recognize individual and societal responsibility for each other, and foster mutual respect and justice.
---
---
The Cohen Center is home to one-of-a-kind artifacts, personal histories, and media resources. These resources are available for review and study by Keene State Students and the general public. More about Collections & Videos
---
---
The Cohen Center's work never stops, but we need your help. Our work in education and commitment to the general public good are recognized as an integral and significant part of the Center's mission.
Cohen Center for Holocaust and Genocide Studies

Keene State College

229 Main Street

Keene, NH 03435-3201
603-358-2490