Holocaust and Genocide Studies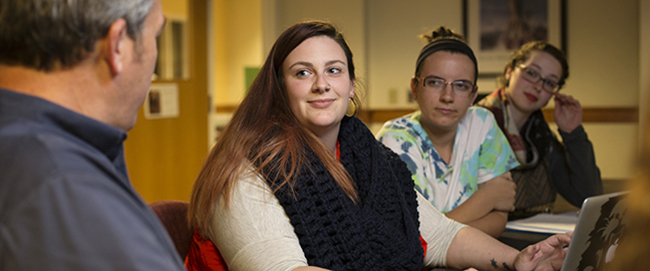 KSC's program – offering the first four-year BA degree in the U.S. – examines both the Holocaust and the broader topic of genocide in an interdisciplinary exploration of history, philosophy, psychology, the arts, religion, and sociology. Students may spend a semester at the Centre for European Studies at Jagiellonian University in Poland.
---
Welcome to Holocaust & Genocide Studies (HGS)
"The experiences students get in H&G Studies are endless. The program stretches far beyond the campus, and exposes you to truly inspiring people. By combining my love of research and my mission to aid in genocide prevention, I believe I can use what I've learned to make a global impact."
– Chloe Edmonds
Based on the premise that every aspect of our civilization, including higher education, has been affected by the Holocaust, students explore a broad spectrum of academic disciplines as they grapple with the Holocaust and other instances of genocide or mass atrocity. A specialized major—the only program of its type in the United States—the HGS program addresses more than how genocide has and continues to torment our world. It examines human behavior: On what basis do individuals choose to perpetrate harm against others, stand by and watch mass atrocity, or choose to either resist or rescue those earmarked for murder? What impact do communal histories, cultures, and belief systems have on such choices? For example, what is antisemitism and how can it go from simple hatred to fanatical hatred? How might national or ethnic art, music, and literature reveal significant myth, prejudices, and falsehoods that give rise to mass atrocity? The program also aims to study human beings more generally: the lives of those targeted for murder, of those who resist, of those who rescue, and the lives and writings of those who endeavor to heal.
---
Become Part of a Critical Shift
The Holocaust is history and no one is capable of reliving the past. But antisemitism, racism, and other forms of prejudice remain maladies of the human species. Faculty engaged in HGS believe that genocide and mass atrocities are preventable. By gaining insight into the Holocaust and studying other instances of genocide, we confront underlying moral issues and human behaviors that force us to examine how science, technology, religion, and broader social forces shape human affairs and, in some instances, lead to atrocities.
---
Confronting a Broad Perspective of History and Global Issues
The Holocaust and Genocide Studies program directs undergraduates in a broad area of study linking history, literature, film, philosophy, psychology, women's studies, religious studies, sociology, and more. Along the way, students acquire historical perspective about prejudice, antisemitism, and racism; they analyze their contemporary world, think critically about ethical responsibility, and learn how to respond actively to injustice.
---
"People ask 'why would you study something so depressing?' And my response is 'to create a better humanity for the future.'"

– Johanna DeBari '14
Graduates in Holocaust and Genocide Studies are prepared to make a difference in graduate schools, as teachers, and in public and social policy. Equipped to design curriculum in social studies, history, and other disciplines, they are able to make a significant contribution to education. They also find careers in social justice and service endeavors. And they acquire a firm foundation across academic disciplines that prepare them for graduate studies in history, as well as Holocaust and genocide studies, and for other postgraduate work, such as law. More about Prepare to Make a Real Difference in the World
---
Dr. Jim Waller
Cohen Endowed Chair
Keene State is home to the Cohen Center for Holocaust and Genocide Studies, one of the nation's oldest Holocaust resource centers. The Center has attracted internationally renowned scholars, many of whom have designed features of the course of study used at Keene State College. Our faculty take a personal interest in students. The academic backgrounds of our own faculty attest to the breadth and diversity of this field. From historians to clergy, from filmmakers to social activists, our diverse educators approach the most horrible events in human history with passion and compassion, skill and wisdom. More about Passionate Thought Leaders Show the Way
---
---
Contact Holocaust & Genocide Studies
Wise up!
Contact Admissions
Request information
Holocaust and Genocide Studies
Michele Kuiawa
Sr Program Support Assistant
603-358-2490
Admissions Office
800-KSC-1909
229 Main Street
Keene, New Hampshire 03435