"Unbelievably Rare and Generous" – A Musical Legacy Gift Benefits Students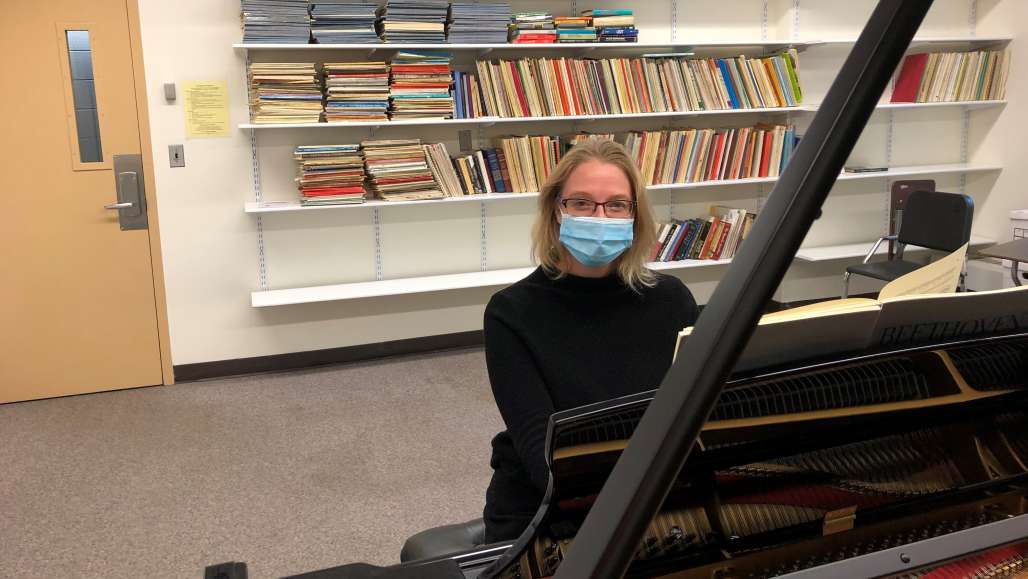 One of the greatest gifts any young musician can receive is access to high-quality musical scores and literature. Musicians dream of owning and studying from the best "Urtext" editions, which stem directly from the composer's manuscript, without alterations, and literally means 'true text.'
Keene State College received a wonderful gift this Fall semester from the estate of concert pianist, teacher, and chamber musician, George Gardner Loring (1953 – 2019). Professor Loring taught at the Keene State Music Department from 1992 until 2012. His sisters, Susan Loring Wells and Holly Loring, facilitated the donation of Loring's entire fifty-box Library Collection - about 2500 rare and valuable musical scores and 500 books - to the Keene State Music Department and the Mason Library. The vast collection of Henle, Ricordi, and Bärenreiter classical musical scores, collectibles, jazz, and theory books, not to mention numerous composer-performer biographies, is now housed in the Music Department and the Mason Library, allowing all music students and the Keene State community access to this literature.
George Gardner Loring's passion for music is reflected in his education and professional accomplishments prior to his tenure at Keene State College. He studied at Phillips Andover Academy, Eastman School of Music in Rochester, Harvard University (B.A. cum laude in Music), and the New England Conservatory of Music (Master of Music in Piano Performance with Honors). He taught at St. Paul School, was on the faculty for two decades at Keene State College, and maintained a private piano studio until his retirement.
Keene State Assistant Professor of Music and Piano Coordinator, Dr. Christina Wright-Ivanova, worked alongside Susan Loring Wells to facilitate the move to campus, with the support of Eric Shannon from the Mason Library. Dr. Wright-Ivanova recently wrote about the new collection, "This is an unbelievably rare and generous gift from George G. Loring and the Loring family to our Music Department. Our students are already utilizing these books and are so excited to have a chance to study from the best editions in the world. Urtext books are very expensive, and access to these can sometimes be difficult. This is a gift that Keene State will always remember, and we will associate it directly with George Loring's legacy of kindness and generosity to our students."
Dr. Wright-Ivanova is in the process of documenting inventory and helping to curate the collection, which has included ordering new shelves in the Piano Priority Room at the Redfern Center for the Arts and gradually sorting through the vast materials. The long-term plans include the creation of a Music Department lending library for students, faculty, and alumni.
George Loring's family were "overwhelmed and impressed" by the extent and quality of the collection he had amassed over a lifetime of study and commitment to Music. When considering the future home for the collection, the Loring family donated the collection to Keene State with the knowledge that it would feed the eager, curious minds of the Keene State Music students, faculty, and greater community for many generations. They felt this would be a fitting legacy that would honor George Loring's deep commitment to teaching and to his students.
Related Stories