Thrive@KSC Campaign Helps Students Connect During Pandemic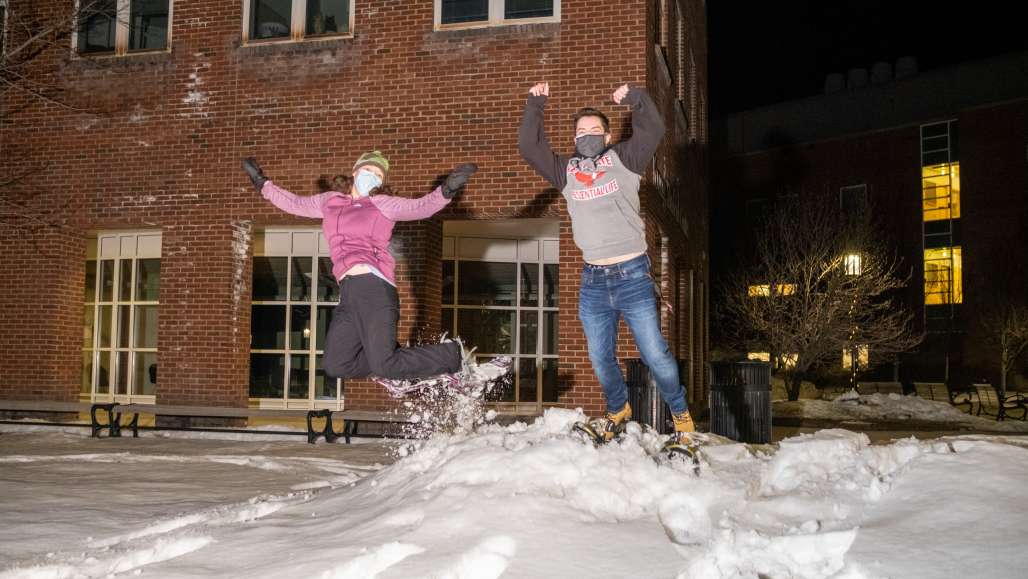 A new wellness campaign provides students with different types of activities aimed at supporting their mental health. After seeing how the unusual fall semester affected students' wellbeing, President Treadwell reached out to the Wellness Center over winter break and asked them to increase their efforts and outreach to students throughout the spring semester.
The Assistant Director of Emotional Health Programming & Outreach Forrest Seymour said, "research shows, and students report to us, that isolation is a major emotional health challenge of the pandemic." Focusing on combating isolation, Forrest and the Wellness Center consulted with staff, professors, and students and developed Thrive@KSC: Emotional Empowerment in the Age of COVID.
The Thrive@KSC campaign includes initiatives focused on helping students' wellbeing and encouraging community participation while adhering to the college's safety guidelines. One initiative encourages students to nominate peers for the Student Support Network Training where they learn how to support students in emotional distress. Another is weekly virtual workshops that focus on different topics of mental health such as mindfulness, relationships, and stress.
Students also have the opportunity to participate in in-person events and meet new people. During the winter months, Thrive@KSC hosted "Winter Hangouts" every Wednesday and "Outdoor Adventures" every Sunday. The outside activities varied from ice skating and broomball to snowshoeing, winter hiking, and biking on the Rail Trail. "Winter Hangouts" provided activities such as snow sculpture contests, snow art, crafts, and open mic nights. "Spring Hangouts" are now offered every Wednesday evening.
Another initiative was a 30-day wellness challenge that operated through a Facebook group. The challenge lasted from February 22 to March 22 and required members to take a picture of themselves doing the daily challenge and post it in the group. Those who submitted at least 20 pictures were entered in a drawing to win two free lift tickets to Pats Peak. Other upcoming initiatives include relaxation breaks, restorative justice circles, drop-in mindfulness practice sessions, and more.
Forrest shared that although student participation is low for virtual events, in-person events are much more successful. "We have found that in-person events, even when very simple, are quite popular. We'll have 40 or 50 students stop by a table in front of the Student Center over a two-hour period on a Wednesday evening."
And with students coming together in person, the Wellness Center wants to be a model for COVID-safe behaviors and is taking every necessary precaution at events. "Depending on the activity, we may utilize Plexiglas screens, three-foot grabbers, various sanitizers, gloves, and always provide masks in order to be safe. We communicate to others the importance of staying safe," Seymour said.
Wellness Promotional Intern Emily Millet '21 works on the campaign and said that Thrive@KSC has benefitted her as both an intern and as a student. "I feel that it has given students and staff more resources and opportunities to have access to a better support system with being on campus during the pandemic," she shared.
But as things slowly go back to normal, will Thrive@KSC stick around?
"One silver lining to this pandemic is the collaborative relationships we have been able to build with other departments and individuals around campus," said Forrest. "A comprehensive and coordinated wellness promotion campaign will always be part of what the Wellness Center does, building on all these collaborative relationships, whether we call it Thrive@KSC or something else."
Forrest also wanted to share words of support for anyone who may need it. "We always encourage folks around campus to bring us ideas of how we can support our students through these challenging times and opportunities to collaborate. Please be in touch! Our primary message is that you are not alone and there are all sorts of people, from friends to staff, faculty, and Wellness Center counselors who are eager to be of help."
For more information on upcoming Thrive@KSC events, visit http://keene.edu/news/events. To contact the Wellness Center, please call 603-358-2200 or email healthservices@keene.edu.
-By Jack Hanson '21
Related Stories