'The Tour,' Academic Flexibility, Chance to Explore … It Added Up For Emily Rogers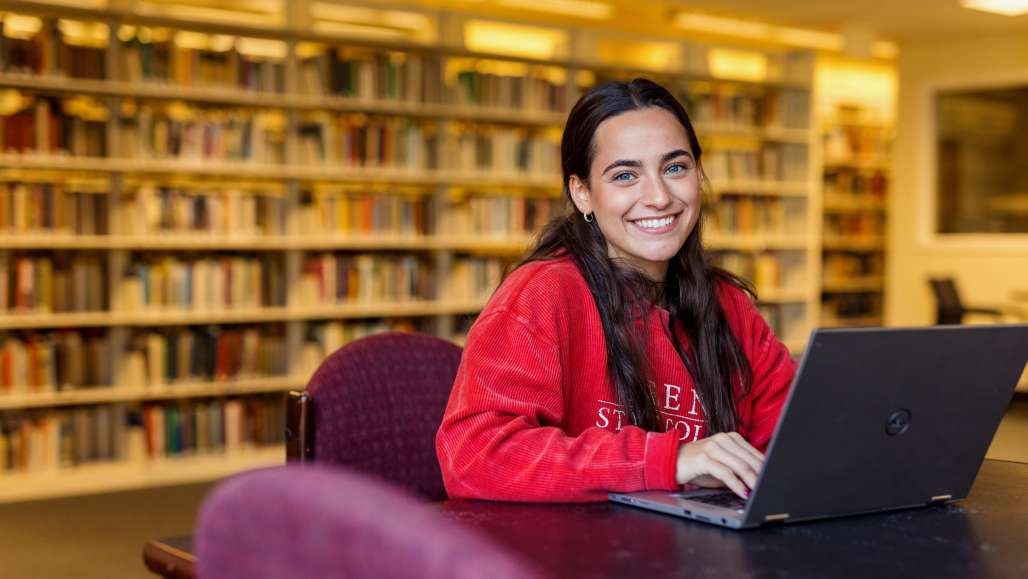 From the moment she stepped on campus, Emily Rogers '23 has embraced the flexibility of her education, the opportunity to take a variety of courses and explore non-academic student life, and the patience "to try to find where I fit in best."
Much of that, she maintains, even as Commencement nears, remains a work in progress.
Sure, she has a declared major that she's excited about – business management with a specialization in human resource management – and she is a Dean's List and Honor Society student, an all-conference swimmer, a student government representative and more, but she is letting life come to her.
It's how she rolls, and it has worked.
She's grown up, she said, become more social and more confident, and her trademark sense of curiosity to learn and to try new things has only flourished while a student at Keene State.
"The people that I've met here, the interests I've been able to explore, and the continuing opportunities for me to grow … that has allowed me to become the best version of myself," Emily said. "What I think is special, is that it has done this for all my friends here as well, without molding us into the same "best version."
---
It's not easy to explain, I just knew. I loved campus, the programs and I liked the idea of exploring what you wanted without being set back."

– Emily Rogers
---
A resident of Framingham, Massachusetts, Emily took a free matching service test as part of her college search. The results narrowed the contenders to roughly a dozen schools, largely grouped geographically, she said. She whittled that list to four.
"Then," she said, "I took the tour."
The Keene State tour … her real first step on campus.
"That's when I knew my search was complete and I told my parents I was going to Keene State. It may have worried my parents at the time, telling them I was going (to Keene State) there just because it felt right. But it was. It has been so much more than anything I expected, and all good."
Four years later, she noted, her parents, Bob and Ann-Marie, "praise the decision I made."
Since then, Emily has led dozens of those tours for students considering attending Keene State, and she said she can spot "that twinkle" she remembers in other students' eyes.
"It's not easy to explain, but for me I just knew," Emily said." I loved campus, the programs and I liked the idea of exploring what you wanted without being set back."
By that, she noted, she meant she did not declare her major until the spring semester of her second year, and yet she had met her graduation requirements after Fall Semester in this, her senior year.
She chose business management because of the "different avenues and outlet that profession offers." And, because of the "people person" she has become.
"I have not thought much about what I want to be doing after college. I have been meeting with both my adviser and with the career center. These people have been key in helping to ensure the transition of college to post-grad, whether it be connecting me with people who have once been in my position, or simply looking over my resume."
Her final semester has been filled with wins and awards in the pool for the college's swim and dive team, duties as vice president of Delta Mu Delta, the college's business honor society, and assorted extracurricular activities. Otherwise, she is taking an Exercise Psychology class, a Business and Society class and a Business Strategy class that is serving as her senior capstone. Students are broken into small groups and each group launches its own online bicycle shop, start to finish.
It has been great fun, and educational, she said. As the project enters a third and final stage, her group's shop is the only one so far turning a profit.
Her work ethic, she said, comes from her parents.
"I call my dad every day," she said. "He's always there for me, to help me with life's little tidbits, to talk me through options."
Recently, Abby Cohen, a friend and Senior Class President, got Emily involved in student government. Emily loves it, she said, and she is now Senior Class Treasurer.
"I came here as a very shy student thrown into an arena with a bunch of people I didn't know, and now here I am doing all these things."
"Even though I, at this point, may not know what my exact next step is going to be, I am eager and ready for it," Emily added. "I am saying yes to every opportunity that comes my way, and I am excited for each of them, and the opportunities that may follow. Anyone thinking about Keene State, or about college, I encourage them to do what feels right."
Related Stories