Students Attend 2nd Annual Choral Directors Conference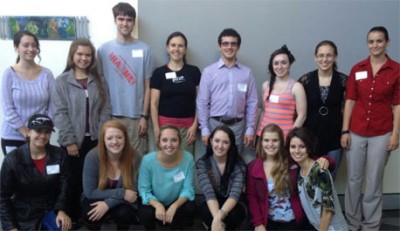 Members of Keene State College's American Choral Directors Association collegiate chapter traveled to Plymouth State University on Saturday, September 28, to attend a one-day professional development conference. The Second Annual New England Area ACDA Collegiate Conference brought nearly 100 attendees together to spend a day focused on movement and body awareness for conductors and singers.
The event began with a large group yoga warm up, followed by a session focused on Laban movement and conducting gesture. Attendees applied Alexander Techniques and movements to enhance choral diction, posture, and breath. The day culminated with an open rehearsal presentation by PSU's Chamber Singers to demonstrate the benefit of movements to free the body when expressing music through singing.
The 13 KSC attendees enjoyed time to network over lunch with students from Plymouth State University and Castleton State College in addition to collaborating with some of New Hampshire's teacher leaders in choral music education.
The KSC collegiate chapter of ACDA created and hosted the first annual conference in September 2012 in collaboration with New Hampshire's state chapter. The conference will rotate through KSC, PSU, and UNH in an effort to provide pre-service choral music educators with an opportunity to expand their knowledge base and professional network. Members of KSC's chapter will also attend the Eastern Division conference sponsored by ACDA, which will be held in Baltimore in February 2014.