Student Journalists Earn National Recognition for Reporting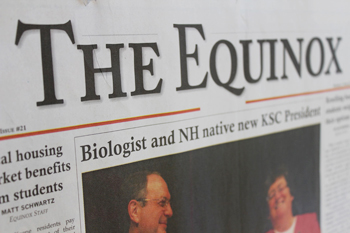 Society for Collegiate Journalists Presents "The Equinox" with 11 Excellence Awards
Keene State College journalists for the College's student-run newspaper, The Equinox, were recognized by the Society for Collegiate Journalists (SCJ) with 11 excellence awards and one honorable mention. The Equinox competed with almost 100 student-run news outlets across the country for the awards. Marianne Salcetti, Keene State's SCJ advisor, nominated the students. Journalists and media experts from around the country selected the SCJ award winners. In addition to these awards, the New Hampshire Press Association presented The Equinox with six awards, and the paper has earned one Kennedy Center award as well.

"These awards are a tribute to the dedication our student journalists bring with them to The Equinox. Maintaining journalism excellence while succeeding at coursework requires focus and hard work, and these students deserve all of this recognition, and more," said Rodger Martin, journalism adjunct professor and co-advisor to The Equinox, along with journalism professor Julio DelSesto. "I am looking forward to continuing my work with these students at The Equinox. It provides an excellent opportunity for aspiring journalists to gain experience on the job, and hone their craft."
The SCJ excellence awards presented to The Equinox are as follows:
Newspaper overall excellence: The Equinox earned third place
Sports page design: Michelle Berthiaume earned third place
Photo essay: Christopher Palermo and Emily Fedorko earned second place
Breaking or hard news: News editor Karina Barriga Albring earned first place

Continuing coverage: First place was awarded to Whitney Cyr, Alicia Ferraiuolo, Leah Hughes, Cam King, Tom MacLennan, Chelsea Mellin, Sam Norton, Carly Thurlow and Tony Yates

Features: Julie Conlon earned second place; Karina Barriga Albring earned third place
Sports columns: Honorable mention went to Brian Schnee
Feature photography: Emily Fedorko earned first prize
Sports photography: Christopher Palermo was awarded third place
Graphic illustrations: Chelsea Nickerson earned first place; third place went to Taylor Cronquist
"The number of awards we received is a testament to how well we've learned to work together as a staff over the course of a year and it also demonstrates the dedication and self-motivation of our staff. I'm incredibly proud of everyone and our accomplishments, and winning these national awards just tells us that the blood, sweat, and tears we've put into this paper has paid off. It's a great feeling," said Whitney Cyr, executive editor of The Equinox. "My work with The Equinox is the reason I have secured a job post-graduation. Over the course of my two years as executive editor, I've learned photography, multimedia, newspaper design, in addition to developing as a writer and as a leader. With all of the skills I've developed, I'm qualified to do a number of things in the various facets of the journalism field. With the guidance of Rodger Martin and Julio DelSesto, I've learned how to do these skills at a very high quality. I loved my work with The Equinox, and I'm going to miss my colleagues."
According to its website, SCJ is a national organization whose chapters "have been credited with establishing collegiate news bureaus, conducting employment campaigns, establishing publicity programs, sponsoring seminars and workshops, giving scholarships and helping establish additional college publications and new communications media, as well as collegiate radio and television stations."
More information about the Society for Collegiate Journalists can be found online.