Cichon, 'Kid Who Loves Sports,' Savoring Every Moment of His Extended Basketball Career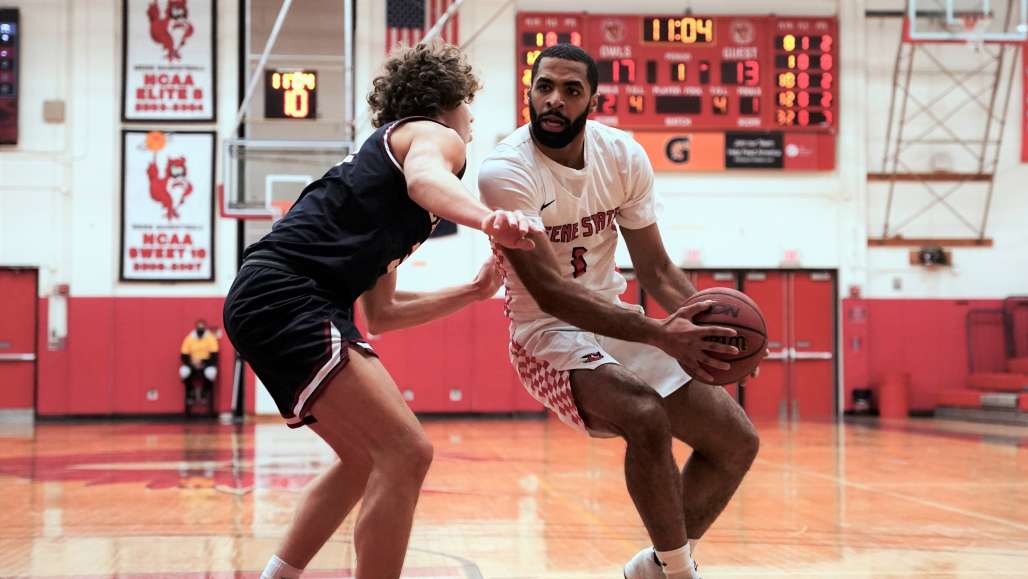 Talent, determination, strong sense of belief drive team player
Jeric Cichon '23 couldn't possibly have known all that Keene State College would be for him.
He imagined the possibilities, but now the standout player on the college's nationally ranked basketball team, and safety & occupational health applied sciences major, is living a dream.
The Springfield, Massachusetts native arrived on campus not as a recruit but as a walk-on and a young man determined to prove himself on the court and in the classroom.
Mission accomplished.
Jeric's student-athlete journey hit its pinnacle this season. The Owls are ranked No. 5 in the nation, have a program-best 28 wins, and their national-title hopes are still intact. On Friday, Jeric, a starting off-guard, and his teammates will trot onto the court at Swarthmore College for a Sweet 16 NCAA men's basketball game.
In May, he will walk across the stage at commencement and receive his degree. He will benefit from the professional opportunities his education and hard work has earned him, wherever that may take him. Ultimately, Jeric said he will be able to lean on the critical thinking skills he learned in the classroom and on the basketball court. And, he added, he will have all the connections a new graduate could want.
"A lot of basketball alumni majored in safety," he said, "and I communicate with them at job fairs, and look up to what they are doing."
His basketball career will end this winter, title or not, but he said the lessons and memories will be life-lasting.
"Honestly," he said, harkening back to his freshman year, "so much of it started off on the wrong foot. I wasn't mature; I wasn't really all the way there yet. I wasn't meeting with coach when I should have. I was not doing well in class, and I was not taking things seriously. Coach (Ryan) Cain didn't take me seriously either. I think he looked at me as someone who wouldn't be here long."
Jeric and the Owls, Little East champions for the sixth time overall and second year in a row, host Swarthmore Friday in Pennsylvania. Tip-off is at 7:15 p.m. Stockton and Nichols play in the day's first game, at 4:15. The two winners will play in the Elite 8 at the same site the following day, Saturday.
Friday's Keene State game will be live streamed here.
Really, what I've always been is a kid who loves sports and who didn't quit. I found at Keene State a chance to continue to be that kid."

– Jeric Cichon
Keene State reached the third round with wins over Baruch College and Tufts in first and second-round games played last week on their home court.
Jeric took advantage of an extra year of eligibility that was afforded any student-athlete on a roster in 2020-21 during the COVID-19 outbreak.
Owls Assistant Coach David Hastings likens Jeric, a strong 6-foot, 2-inch guard, to a Swiss Army Knife.
"All those gadgets, that's what Jeric has," Hastings said. "He's such a unique player in that he does so many things well and that he always puts the needs of the team first."
"His numbers stay even, and they are good, but scoring is not his forte," Hastings added. "He can have a big scoring day based on what the defense is allowing. We ride him because we know what Jeric has to offer when he's on the court."
Off the court, Jeric has worked locally as a mentor for Monadnock Developmental Services, working with children on the Autism Spectrum who deal with disabilities or who are having a hard time at home.
"Probably the best job I ever had," Jeric said. Each year, Jeric also works with his mom, Jilena Cichon, to serve meals to the homeless at a Knights of Columbus in their hometown.
"It's good perspective," he said. "You've gotta be grateful for what you have, for the situation you're in."
He's just as grateful for this basketball opportunity, for earning the respect of his teammates and coaches, and for the prominent role he has on a memorable, record-setting team.
"We have teammates who want the best out of you," Jeric said. "If you have a bad game and one of your good friends has a good game, it feels like you had a good game, too. There are freshmen and sophomores on this team who inspire me, who lift me up."
"Really," he said, "what I've always been is a kid who loves sports and who didn't quit. I found at Keene State a chance to continue to be that kid."
Related Stories