President's Outstanding Women of NH Awards: Six Honorees Announced by College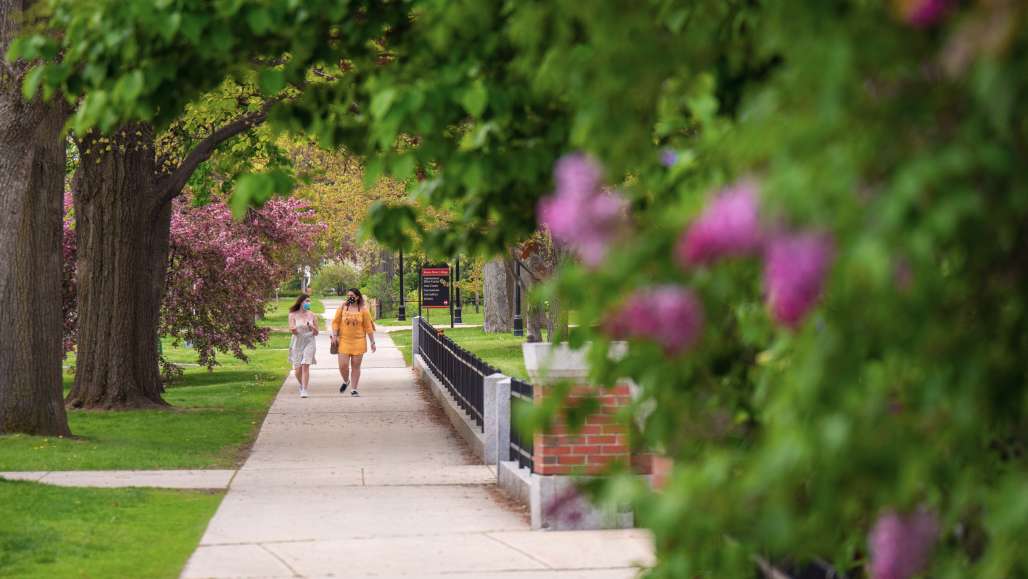 Keene State College is pleased to share the honorees for the 32nd annual President's Outstanding Women of New Hampshire awards.
This year's theme during Women's History Month is Women Providing Healing/Promoting Hope. The college is celebrating incredible women on the state, region, and college levels who have made outstanding contributions that positively impact the lives and well-being of people in their communities.
This year, that includes women who have served as tireless caregivers and frontline workers during the pandemic and before, therefore helping to enhance the health and well-being of our community.
The award ceremony is free and open to the public. It is Thursday, March 24, at 6 p.m., in the Mabel Brown Room, Lloyd P. Young Student Center. To register for the event, or to view the livestream on the day of the event, visit https://www.keene.edu/campus/diversity/women/. Seating is limited.
The college is delighted to announce that the following women will be recognized:
State of New Hampshire Awardee:
Ms. Kirsten Durzy, MPH
Ms. Durzy's skill and talent, informed by her lived experience, have been most evident since the beginning of the COVID-19 pandemic. As the equity subject matter expert for the NH COVID-19 response, she has tirelessly championed the needs of disproportionately affected and historically marginalized groups.
As director for the Vaccine Equity Branch, Ms. Durzy worked hard to provide our state's most at-risk residents with equal opportunity to receive the COVID vaccine, and she ensured that vulnerable populations were remembered at every step of the vaccine roll-out and that their needs were not neglected in decision making. She has provided expertise in strategy, governance, community engagement, and facilitation in various public-private collaborations and coalitions across New Hampshire, most specifically in the areas of evaluation, HIV, and building equitable and just organizations. In the past, Ms. Durzy has worked in community health and education settings in multiple states, in the context of higher education, tribal communities, nonprofits and the public sector.
Ms. Durzy's steadfast visionary leadership has also, for more than a year, brought to life the "mental, emotional, and social health and healing in the community" through the OurStoryNH project. As President Woodrow Wilson once said, "There is no higher religion than public service. To work for the common good is the greatest creed." Ms. Durzy's unwavering commitment to health equity, her tremendous generosity, and relentless energy truly make her an "Outstanding Woman of New Hampshire."
Monadnock Region Awardees:
Ms. Mary E. Curtin Pierce, BSN, RN
Ms. Mary Curtin Pierce is an infection preventionist at Cheshire Medical, a Dartmouth-Hitchcock Health affiliate. In this capacity, she works to protect patients and staff from hospital-acquired infections and serves as a facility resource in antimicrobial stewardship, data analytics, and process improvement. During the past two years, she has played a major role in ensuring the hospital's readiness to tackle COVID-19. Ms. Curtin Pierce was relatively new to Cheshire Medical when the first COVID-positive patient in New Hampshire was announced in early 2020. But she would play a pivotal role in guiding the organization through unprecedented challenges, using her data and analytic skills to assist her colleagues. Further, Ms. Curtin Pierce's expertise has been sought by Keene State College in formulating its COVID-19 response.
Working alongside Dr. Aalok Khole, Infectious Disease Specialist at Cheshire, Ms. Curtin Pierce used a three-pronged approach to infection prevention during the pandemic. This focused on limiting the entry of COVID within the hospital setting; developing tactics to contain and limit spread if it does enter; and lastly, establishing how best to treat patients with COVID while keeping employees safe. She studied local data and took guidance from various organizations, including the Center for Disease Control and Prevention and New Hampshire's Department of Health and Human Services to help create guidelines for Cheshire's specific organizational needs.
Ms. Curtin Pierce is a recipient of Cheshire's RISE (Resolve, Integrity, Sacrifice, Exceptional Service) to the Occasion Award. Her service and proactive approaches amid the turbulence protected Cheshire's staff, patients, and the greater community. She is compassionate and courageous and has led with wisdom, expertise, persistence, and insistence on adhering to science as well as the hospital's core values of service and the public good.
Ms. Tricia J. Zahn, MPH
A public health professional by training, Ms. Zahn worked in several parts of the country before moving back to southwestern New Hampshire. She is now the Director of Community Strategic Partnerships at Center for Population Health at Cheshire Medical Center, a Dartmouth-Hitchcock affiliate. She has also served as the lead for vaccination efforts in the region. This massive undertaking was organized by Ms. Zahn in collaboration with the Greater Monadnock Public Health Network.
Ms. Zahn believes strongly in tapping into the relationships and trust built among partners; in bringing together persons, organizations, and groups in viable and fruitful ways; and in leaning in on their strengths during times when the larger community needs such energy and effort. For Ms. Zahn, the COVID-19 vaccine distribution work in the region was the culmination of a series of preparedness efforts. It is to an end like this that she has worked over the years, building relationships, recruiting, vetting, and training volunteers.
Ms. Zahn recently received the RISE (Resolve, Integrity, Sacrifice, Exceptional Service) to the Occasion Award from Cheshire. This award recognizes an individual who has stepped up in an extraordinary way during a crisis or challenging period, making it possible for Cheshire to achieve its mission despite adversity. She has also been celebrated by the Union Leader, a statewide daily newspaper, in its "40 Under 40" recognition of young professional age 40 and under doing difference-making work where they live.
Martin Luther King stated that "Life's most persistent and urgent question is this: "What are you doing for others?" Ms. Curtin Pierce and Ms. Zahn's contributions to the well-being of the local community are to be commended – this Outstanding Women of New Hampshire Award is just one way of celebrating them.
Keene State College Faculty/Staff Awardee:
Dr. Jeanelle Boyer
Dr. Boyer is Associate Professor of Public Health here at Keene State College. Through her work as co-chair of KSC's COVID Leadership Team, Dr. Boyer has had a huge impact on all of us. Her work has directly helped to reduce the risk of spread of the disease in the community and has helped to keep us all safe during these uncertain times. Her work included using wastewater testing to evaluate the levels of COVID on campus and in Cheshire County. This innovative practice helped assess the risk that COVID had in the community before cases were confirmed on or off campus.
A microbiologist by training, Dr. Boyer has also conducted research in various areas of inquiry related to health. This includes, among other things, a study of Food Protein Induced Entercolitis Syndrome (FPIESD) in infants.
The syndrome is a poorly understood, serious allergic condition that primarily impacts infants and children. There is no known cause or cure for the allergy. Dr. Boyer's research is examining the role that the gut microbiome might play in causing the syndrome. Her study resulted in Dr. Boyer being awarded a grant by the FPIES foundation, Ubiome and NH-INBRE.
As a registered yoga instructor, Dr. Boyer includes meditation in all her college classes and teaches workshops and classes on mindfulness, meditation, and yoga as effective tools for bolstering resiliency during challenging times.
Dr Boyer is passionate about the mental health of her students and the greater community. She is committed to investigating strategies to decrease prescription drug misuse and abuse on college campuses and in the management of mental health issues faced by college students during COVID-19.
Dr. Boyer's COVID management efforts, along with her teaching, research, and the yoga classes she offers to faculty, staff, students, and the larger community, allow her to impact the community at various touchpoints. Those of us at KSC owe Dr. Boyer a debt of gratitude for all she has contributed to help to keep us safe during the pandemic, and for her important and purposeful research. Her contributions on a variety of fronts certainly makes her a truly worthy recipient of this recognition.
Keene State College Student Awardee:
Ms. Sara Getchell
Ms. Getchell, a senior from Merrimack, New Hampshire, has been instrumental in organizing the regional Jesse Lewis Choose Love Movement, a community event at Keene State. Choose Love strives to create safer schools and a safer world by teaching people how to use nurturing, healing love in any circumstance. It is based on the principle that practicing social and emotional learning skills improves culture and cultivates an environment that is welcoming, supportive, compassionate, and safe.
Ms. Getchell is the president of the Yoga Club, president of the Community Service Club, and vice president of Kappa Delta Pi- Education Honor Society. As president of the Yoga Club, Ms. Getchell provides physical, mental, and emotional support for students of the Keene State community and works to recruit students, many of whom say they are looking to improve their social, and mental health. She also brought the Community Service Club back to life and has been instrumental in helping to keep it running. This past college year, the club has done impactful work in the community. Its members volunteered at the Walk to End Alzheimer's as well at the Choose Love event, as two examples.
Ms. Getchell has also been a leader and top student in her classes, assisting other students and serving as a teaching assistant for at least two classes. She is an elementary education major, so helping other learners comes naturally to her, but what she truly wants, she says, is to help others to be successful.
It has been said that potential materializes into achievement with hard work. Ms. Getchell is being recognized for her efforts as well as her immense potential, which will certainly take her on to even more magnificent things.
President's Award for Distinguished Service:
Ms. Donna L. Coty, BSN
(The Distinguished Service Award is presented to an individual or department that exemplifies service to the Keene State community. For a staff member, it is the highest honor consistent with the College's mission and goals.)
Ms. Donna Coty devoted her professional life to improving the health and well-being of others, including during her tenure as coordinator of the simulation lab for the Keene State Nursing Program.
Ms. Coty passed in 2021; she was 60 years old.
She left an indelible mark not only at the College, but through her distinguished career in home-care nursing. Her kind, gentle and confident presence is missed by all who knew her.
Ms. Coty focused students on the need to be skillful and compassionate. She routinely provided not only the typical day-to-day experiences for her students, but she sought to challenge them in detailed and elaborate simulated scenarios. Students were amazed at the realism of the environments she created and how they prepared them for real-life responses to such situations.
Ms. Coty took on additional duties to improve the college's response to COVID by working for the Rapid Response Team conducting outreach and contact tracing. She put her nursing and counseling skills to use by delivering tough news to students during this time and working with them to make sure they felt safe and supported while in isolation and quarantine.
Most cherished are the imprints she left on her students. She genuinely cared for her students and their success. She was always willing to meet them where they were and help. It is impossible not to think about what could have been if she were still with us, all the students she would have continued to mentor and inspire, all the colleagues and projects she would have supported.
Posthumously awarding the President's Award for Distinguished Service to Ms. Coty celebrates a lifetime of contribution to the care of others and to the social good she helped to foster where we live.
Congratulations to this year's President's Outstanding Women of New Hampshire honorees … and to the family and friends of Donna Coty for Ms. Coty's President's Award for Distinguished Service.
Related Stories