Passions Unlocked: Medical Research, Martial Arts Take Richard Phipps Down New Paths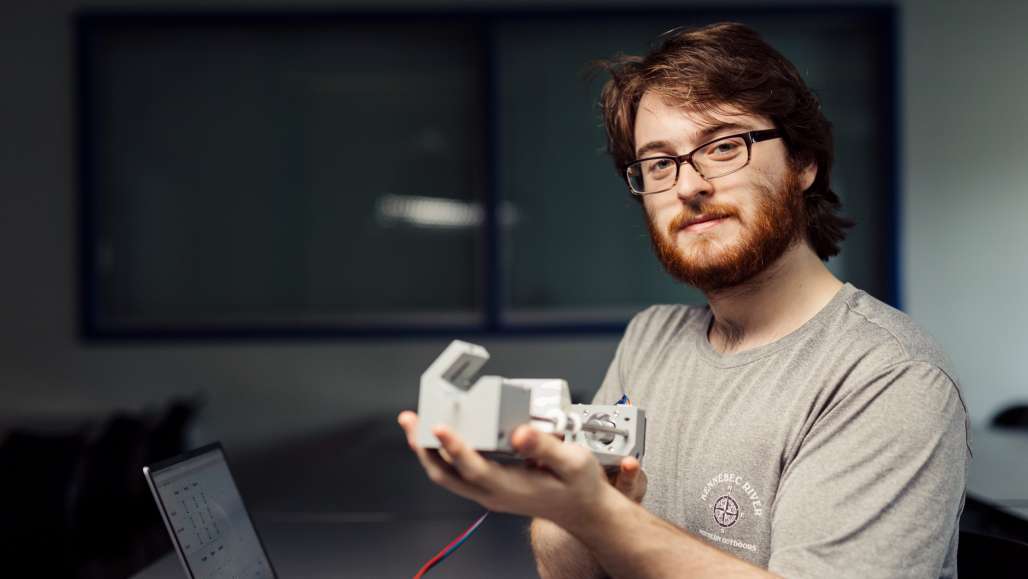 At Keene State, Richard Phipps '24 not only discovered a passion for data analysis, but he is applying that interest, and related skills, to a fascinating research project that could help shape the future of the medical and healthcare industries.
As a high school student, Richard had simple aspirations for college — study software engineering and graduate early.
His plan has shifted. Richard, a first-generation college student from Henniker, N.H., will graduate with a bachelor's in computer science, but adding minors in data analytics and mathematics will necessitate a traditional four-year path.
"But the good news is I'm taking more classes in data analysis, which is what I really want to do for a career," he said. "It's a lot, but Keene State has a lot of resources to help me succeed in what I love doing most."
Then there is Richard's other new-found zeal, jiu-jitsu, and with that another goal: a black belt. President of the college's Brazilian Jiu-jitsu Club, Richard says jiu-jitsu has helped him to discipline his mind and body into becoming better each day and it has taught him a lot about life.
"You get used to losing and improving as a person so that when the wins do come, they feel a lot better. I believe in being humble in success and reaching your goal. No matter what, keep pushing forward."
Richard participates in jiu-jitsu on campus one night a week and on other days he can be found at his instructor's nearby gym.
---
I came to Keene State for a reason, to build a future, and that is happening."

– Richard Phipps
---
Then there is this aside: in collaboration with a professor, Dr. Wei Lu, and a research team, Richard is working in the lab on the development of an open-source medical syringe pump. The nationally funded research is part of a large project titled "Securing the Internet of Medical Things in Healthcare with Machine Learning" led by Dr. Lu. The project is sponsored by the New Hampshire IDeA Network of Biomedical Research Excellence.
The Internet of Medical Things, a network of connected medical devices, software applications, and healthcare systems that collect, analyze, and share health data or medical images, has rapidly changed the healthcare industry by enabling the widespread use of connected hospital devices. However, it has also led to increased cybercriminal activities targeting these devices.
In the next phase of the research happening on campus, a comprehensive intrusion detection system to prevent cyberattacks against these devices will be investigated.
"Richard's skills related to conducting experiments, analyzing data, and interpreting results have made him the perfect fit for this unique research," Dr. Lu says.
Professor Caitlyn Parmelee said of Richard: "He is an amazing student; the most hard-working and positive student I have ever had the pleasure to teach."
Richard took Discrete Mathematics for Computer Science with Parmelee. He struggled with the math, the professor says, but "that just made him want to do more math to fill in the gaps."
Parmelee had Richard again in Calculus and in Calculus II and Applied Statistics.
"It is very impressive and a testament to Richard's self-motivation to come in with a weaker math background and go on to succeed in such high-level mathematics. The key to Richard's success is his drive to learn, his willingness to ask for help, and his enthusiasm for mathematics and for learning."
Keene State students, like Richard, have limitless opportunities to gain real, hands-on experience through internships, clinical placements, performances, research alongside faculty members, and more.
"This has challenged me in ways I didn't think of before," notes Richard. "We have made great progress with it on showing how the original design is not great and showing how the whole system is supposed to work. Our next steps are to redesign the pump and make a homemade hospital room to show a live demonstration of how this is going to work."
Richard's college-life advice? "Act on your passions, and dare to step out of your comfort zone," as he did with the research project.
"I came to Keene State for a reason, to build a future, and that is happening."
Related Stories