Open House at KSC's New Nursing Simulation Lab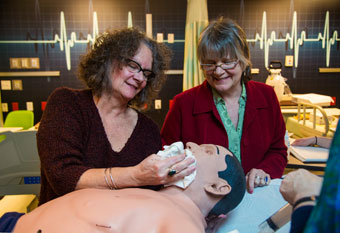 When they return to class later this month, Keene State nursing students will have access to a state-of-the-art training facility. According to Mary Ellen Fleeger, director of the nursing program, KSC's Nursing Simulation Lab is the newest and best organized cutting-edge facility in New Hampshire. Once it's integrated with other programs at the College, the high-technology at the facility will enhance the interdisciplinary approach to teaching that makes KSC's unique among other nursing programs. There will be an open house and tour of the Lab on Monday, February 3, from 2:30–4 p.m.
The $1.2 million facility, located in the former computer lab in Rhodes Hall, is organized into two areas: The Nursing Fundamentals Lab features five patient areas and a nurses station that are set up just as they would be in the most current hospital environment. And the Simulation Lab includes two intensive care rooms that are monitored from a common control room.
High-tech mannequins, including a birthing mother and baby, can be programmed for up to 100 different health care scenarios. Students using the facility will have extensive opportunities for realistic, hands-on learning that greatly strengthens traditional teaching models.
Related Stories